A "swarm" of icebergs in the Atlantic is interrupting shipping routes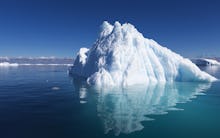 An "unusually large swarm" of icebergs has gathered in the North Atlantic, not far from where the Titanic famously sank, and it's interrupted usual shipping lanes, the Associated Press reported on Thursday.
The average number of icebergs gathered near the Grand Banks of Newfoundland around this time of year is usually 80, the AP reported, citing information from the U.S. Coast Guard's International Ice Patrol. On Monday, there were around 450 icebergs there — numbers that are commonly seen around May or June, not this early in the season.
The high number of icebergs may be related to both wind patterns and to climate change, an expert told the AP, as higher temperatures could increase the rate at which chunks calve off of the massive Greenland ice sheet.
The iceberg swarm is forcing cargo ships to take extra precaution, moving slowly or taking long detours to avoid the ice. "It makes everything more expensive," Capt. Sid Hynes, executive chairman of the shipping company Oceanex, told the AP.
"You're burning more fuel, it's taking a longer time, and it's hard on the equipment," Hynes said, adding that it's a "very unusual year."