This brilliant mashup nails exactly how Sean Spicer treats the White House press corps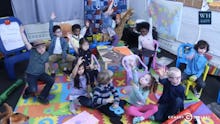 A parody video shared by the Daily Show on Wednesday pairs real clips of White House press secretary Sean Spicer with mini-me kindergarten versions of the White House press corps — and the result is alarmingly seamless.
In this video, kids named April, Glenn and Cecilia — references to real-life White House correspondents April Ryan, Glenn Thrush and Cecilia Vega — lob questions at Spicer like "Can I feed the fish today?" and "When are we going to learn about Russia?" and "Can I go to the bathroom?"
The video includes real responses from Spicer, admonishing actual, grown-up members of the press corps to wait their turn, be polite and stop interrupting.
Spicer has been accused of being condescending and short-tempered in his treatment of the press corps, perhaps most notably when he scolded veteran White House journalist April Ryan during a March press briefing, telling her to "stop shaking your head." That clip, of course, made it into the Daily Show parody video.
For a joke, the whole video sounds remarkably like a daily White House press briefing — except for the part where all the kids start chanting "We want tax returns."