Awkward Ivanka Trump correction in 'New York Times' is getting dragged on Twitter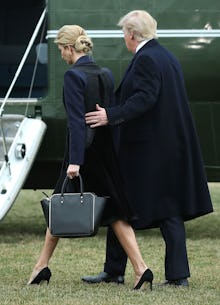 The New York Times — sorry, the "Failing" New York Times — on Wednesday accidentally referred to Ivanka Trump as President Donald Trump's wife, forcing the paper to issue a hilarious correction reminding everyone that Ivanka is the president's daughter and Melania is his wife.
"Because of an editing error," the correction read, "an earlier version of this article misidentified Ivanka Trump as President Trump's wife. His wife is Melania. Ivanka is one of his daughters."
Due to the president's history of — well, let's say questionable comments about Ivanka, who, again, is his daughter, some wondered if the Times' "editing error" was really a Freudian slip.
Fortunately for the New York Times, Twitter users showed understanding for their error.
The Times piece in question was a breakdown of all the times Trump has visited Trump-owned properties as president. He's spent nine of the first 11 weekends of his presidency at properties he owns and hosts Chinese President Xi Jinping at his Mar-a-Lago resort in Florida beginning Thursday.