'The Lost City of Z' cast has some filming horror stories with beetles and caimans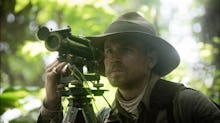 While there's a general consensus that Alejandro González Iñárritu's The Revenant was the film shoot from Hell, the adventure epic The Lost City of Z might give it a real run for its money. The film, directed by James Gray, had a six-week shoot in the jungles of Santa Marta, Colombia, for the scenes that depicted the Amazon rainforest where real-life adventurer Percy Fawcett once explored. The film is based off the book of the same name about Fawcett's repeated trips to the Amazon to find a hidden civilization, which he referred to as the "City of Zed." 
Gray, for his part, was committed to shooting The Lost City of Z in remote forest locations; all the better to get a sense for what Fawcett and his teams had undergone in the early 20th century. 
In a way, it worked. The cast and crew endured a ton of setbacks, ranging from flash floods and sweltering heat to very personal encounters with beetles and snakes. In notes provided to press before a screening of the film, here's some of the craziest, most horrific stories from the set. 
For anyone afraid of, well, any animals that reside in the jungle, you've been warned. 
Robert Pattinson, feeling sketchy: 
Robert Pattinson, who plays Fawcett's aide-de-camp Henry Costin in the film, described the jungle environment as "pretty sketchy," especially when he and lead Charlie Hunnam, who plays Fawcett, were tasked with chopping down parts of the forest with machetes. 
"There were enormous spiders and snakes everywhere," he said. "And giant, gorgeous, bright blue frogs that will kill you. We were worried about Arbor Vipers that drop from trees and bite you in the face. After someone in the crew got [bit] in the neck by a snake, they asked me and Charlie to go into virgin jungle with blunt machetes, and all the Colombians were telling us, 'There's a reason you don't go off the path. The animals will leave you alone until you start smashing the jungle.'" 
Tom Holland swimming with caimans: 
Tom Holland plays Fawcett's eldest son, Jack, who joins his father on the 1925 expedition in which they disappeared. Holland spent some time on set for his jungle scenes, and inadvertently swam with black caimans, the largest predator in the Amazon basin. 
"I got in the river one day with the local kids and had the best day ever, but I didn't realize the water was filled with black caimans, which are like giant alligators," Holland said. "The next day we were filming on the boat when I saw this big crocodile-looking thing in the river. Apparently they are very docile and don't really attack people, but to me this thing looked as mean as could be."
River flooding: 
Gray was filming a scene between Pattinson and Hunnam when people warned him that the river was rising. Gray didn't think much of it — then the entire set was flooded. 
"It didn't seem that big a deal to me; I figured fine, let the river rise, we'll be out of here in a few hours anyway," he said. "Six minutes later we were about to do close-ups when all of a sudden the river flooded the entire set in about 45 seconds. Everybody ran for the hills grabbing the camera, the film. Within two minutes, the area where we'd just been shooting was totally under water. Fortunately, everyone was OK and I got what I needed. We were dealing with that kind of disruption on a daily basis." 
Charlie Hunnam, method actor and bad boyfriend: 
OK, this one isn't from the press notes, but it's still rather absurd. Hunnam's filming of The Lost City of Z meant he was away from his longtime girlfriend for an extended period of time. According to Entertainment Weekly, while he was shooting in Colombia he had planned to send his girlfriend a letter a day — which in its own way is quite romantic. The only issue was the letters weren't being delivered to her. 
"It's completely unreliable," he told EW, of the mailing system in Colombia. "I received a letter from her, and I realized that from the tone of it and things she was saying that she hadn't received the two letters that I sent before." 
From there, he decided to stop sending the letters and go full method, which even he admitted made him sound like a "total bastard." However, he tried to remedy the situation when he got home with the help of Colombian jewelry. "My girlfriend is a jewelry designer, so I was able to come back with an appropriately sized gift," he said. "It didn't remedy all of the trouble I was in, but it got me halfway there."
Charlie Hunnam and the beetle that burrowed into(!) his ear: 
Yes, a beetle burrowed into Hunnam's ear overnight, which sounds as terrifying as you'd imagine. 
"I was staying in this little shack on this hill and woke up at three in the morning to this ungodly noise, like there was a pneumatic drill in my ear," he said. "An insect had burrowed into my ear and hit my eardrum so it couldn't go any further. It was a long beetle with wings. When it couldn't get back out, it kept trying to burrow further in and flapping its wings. That's what woke me up." 
To stop the beetle from burrowing any further, the actor poured water into his ear. In the morning, when he went to seek medical attention, the beetle was still alive. 
"I called production who called an ambulance and when they showed up, the lady, who didn't speak any English, stuck the scope in my ear to have a look and started shaking her head, talking back and forth with our hotel receptionist, who was translating," he said. "Then she handed the scope to the receptionist and he put it in my ear and he had a look. That's when I realized this was not the level of medical care the situation required. So I spent my day off in the hospital. It wasn't that big a deal, except the beetle did bite a hole in my eardrum and I had to take antibiotics for a week." 
The Revenant? Yes, that was a rough shoot. But my god, The Lost City of Z sounds just as — if not more — nightmarish. 
The Lost City of Z arrives in select U.S. theaters Friday, and nationwide April 21.   
Mic has ongoing movies coverage. Please follow our main movies hub here.