'Mass Effect: Andromeda' 1.05 Patch Release Time: When will the new update arrive?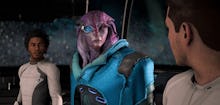 Update: Patch 1.05 is now available for download. It's 2.091 gigabytes in size.
Mass Effect: Andromeda is getting some much-needed attention from BioWare over the next few months in a series of patches and updates that will address the game's biggest problems. 
These updates will address everything from stilted facial animations to more in-depth, content-based updates, like improving the clumsy writing on its transgender character, Hainly Abrams.
The first update is scheduled to hit Thursday, April 6. It will include a number of bug fixes, balance updates and various quality-of-life improvements that should make the game a more pleasant, smoother experience overall.  
Here's what you need to know about when the patch will hit.
What time will the Mass Effect: Andromeda patch release?
According to a tweet from the official Mass Effect account, multiplayer servers will be down on Thursday for approximately one hour starting at 11 a.m. Eastern. The patch will likely hit somewhere in that window of time. 
While you anxiously await the new update, read up on the full patch notes so you know what to expect. BioWare has yet to release details on what the balance improvements to multiplayer will look like, but we'll update you as more information becomes available.
April 6, 2017, 11:22 a.m.: This story has been updated.
For more on everyone's favorite space opera, check out the rest of what Mic has to offer. Here's an essay on the troubling history of colonialism in Mass Effect, a story about the horrifying harassment campaign carried out against a former BioWare employee, a look at the #MakeJaalBi fan movement and an overview of the historic lack of gay romance options in Mass Effect.