This curve model just got real about why we shouldn't ever use the term "real women"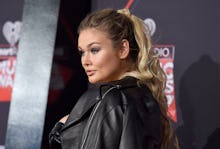 At just 23 years old, model Hunter McGrady has built a modeling career around breaking the rules, entering the industry as a size 2 straight-size model, and then ultimately becoming a plus-size model, who's now a size 16. She's found success modeling for Lane Bryant and Sports Illustrated, while also being hugely outspoken about the importance of loving your body, no matter what size. 
And now she has something important to say about the phrase "real women," the hotly contested term that's still used to this day. 
In an interview with Teen Vogue, McGrady broke down the real problem with the idea that one woman can be considered a "real woman," while others are left out. 
"You know, people have said to me, 'Oh my god, finally, a real woman with curves!,' and that to me is just not a compliment," McGrady said. "For me I'm like, 'What do you mean, a real woman? A real woman is a size 0 to 22 or 24 and everything in between and more.'" 
"Just because I am saying I've gotten boobs and whatever doesn't mean that when I was size 2, I wasn't a real woman," she continued. "I think that all women are beautiful, and we have to accept that and lift each other up and be confident for one another, and for all sizes."
After all, being tall and thin doesn't make a woman any less of a woman, just like having a curvier physique doesn't make a woman more of a woman either. 
Real women are, really, just women. 
That's the real takeaway from this debate that's been brewing for years now. It's just taken a while for some publications to realize what they're insinuating when they use the term "real women," like Redbook did in 2015 for its "Real Women, Real Style Tips" issue and BuzzFeed did that year too when it used the headline "Here's what Victoria's Secret swimsuits look like on real women" on Facebook, which caused controversy back then too. 
Hopefully though, with a woman like McGrady on the case, more outlets will smarten up when it comes to the idea that being a thin woman — or being a curvier woman — doesn't affect your woman status at all.