French Montana calls black woman a "musty crusty dusty rusty ass hoe" with "nappy hair"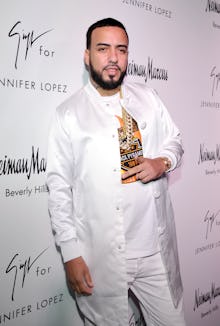 Let's get right to it. French Montana's tweet calling a Twitter user a "musty crusty dusty rusty ass hoe" with "nappy ass" hair is straight up misogynoir. The rapper's insensitive "joke" was a response to a Twitter user named @artdecoxxx, a black woman, who made a shady remark about French Montana's current popularity in music. Twitter reactions to Montana's dragging of the woman ranged from outraged call-outs of anti-blackness and sexism to full-on defenses of the rappers remarks, a disappointing example of how this language continues to be normalized. 
Read Montana's tweet below:
Black women Twitter users complain about being called out of their names and many times it comes from trolls hiding behind egg avatars. But how often does an attack come from a celebrity? Such was the case for @artdecoxxx, an account with 747 followers. She made the comment below Wednesday night and did not tag Montana's account directly.
It is uncertain, then, how Montana, who has more than 2 million followers, found the tweet. Some believe he was possibly searching his name on Twitter and came across the post this way. However he found it, his response created a firestorm on the social media platform, sending his name to the top of the trending list Thursday morning. He proceeded to defend his words.
Montana's was born in Morocco. But his proximity to blackness as a hip-hop artist, and who he has chosen to date and procreate with in the past, does not make his attack any less anti-black-woman.
Some Twitter users came to @artdecoxxx's defense. 
Meanwhile these Twitter users believed Montana was making a harmless joke or were dismissive of the outrage.
Explaining why Montana's tweet is degrading to black women can be exhausting because we've been here before. There is a special term for this called misogynoir, coined by Moya Bailey, a queer African-American woman and professor at Northeastern University. This word defines the specific way in which black women experience misogyny.  
There are so many examples of it in media and culture. In March, Fox News anchor Bill O'Rielly was called out for making fun of Democratic Representative Maxine Waters' hair. In July and August, Saturday Night Live star Leslie Jones was viscously attacked by racist and sexist trolls. In August, Fifth Harmony member Normani Kordei left Twitter for some time after facing racially-charged cyberbullying. Montana's tweet also brings to mind former CBS Radio announcer Don Imus, who was fired for calling a NCAA women's basketball team "nappy-headed hos" in 2007.  
Who will hold French Montana accountable for his words? Apart from the young black women and men currently rallying in his mentions against his post on Twitter, it is uncertain anyone else, especially from the hip-hop or celebrity community, will demand he learn how oppressive his language is to black women. Montana may see what he wrote as just a "dragging" that @artdecoxxx deserved, but with his platform he is abusing his power to perpetuate the normalized racism and sexism in our culture — and the collapse of this thinking is long overdue.
Mic has ongoing coverage of the music coverage. Please follow our main music hub here.