Despite Trump's claims, Rep. Elijah Cummings definitely did not call him a great president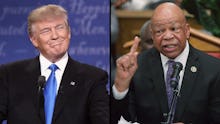 President Donald Trump loves praise — so much so that he's taken to inventing it out of thin air.
In a sit-down interview with the New York Times published Wednesday, Trump claimed Rep. Elijah Cummings (D-Md.) said in a one-on-one meeting that Trump will "go down as one of the great presidents in the history of our country."
Cummings, who has been an outspoken critic of Trump — even calling top Trump aide Steve Bannon a "white supremacist type" — said nothing of the sort, and he made that clear in a statement to the Huffington Post. 
"During my meeting with the president, and on several occasions since then, I have said repeatedly that he could be a great president if ... IF ... he takes steps to truly represent ALL Americans rather than continuing on the divisive and harmful path he is currently on," Cummings said in the statement.
Trump, apparently, was so eager to hear praise that he mistook Cummings' warning as a compliment, but as soon as the Times released their Trump interview transcript, reporters who have covered Capitol Hill expressed skepticism over Trump's claim.
Even Maggie Haberman, the New York Times reporter who conducted the interview, seemed immediately skeptical, responding to Trump's claim in the interview with a simple "Really?"
And reviewing Cummings' public comments after their March 8 meeting, Cummings said he made it abundantly clear to Trump that he needs to be a president for all people, not just his most fervent base.
"One of the things that I shared with the president is that you cannot lead a country where 67% of the people are fearing you," Cummings said on MSNBC's Morning Joe of his meeting with Trump. "That's horrible. And so I think he has to get away from this distractive activity. I think he has to concentrate on the entire nation."