'Criminal Minds' season 12, episode 19 reveals a new clue about why Reid is in jail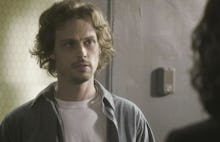 CBS' long-running series, Criminal Minds, has upped the stakes in its 12th season, sending its resident genius, Dr. Spencer Reid, to jail in an arc that began in episode 13. During a trip to Mexico, Reid is implicated in the murder of Nadie Ramos. While it has been theorized that Reid had been framed by Peter Lewis (aka Mr. Scratch), episode 19 has called that assumption into question. 
In the latest episode, titled "True North," Tara tries to help Reid piece back together his memories of his time in Mexico, only to learn that the person responsible for framing him may not be who we all thought. While Scratch initially appears to be behind drugging Reid in Mexico, that may actually be nothing but fiction.
While Tara is helping Reid remember what happened, it appears that Scratch's face becomes that of a woman. This leads Reid to claim that it was not Scratch, but a mysterious woman who framed him. Who is she? That is a question we cannot answer quite yet, but as season 12 continues, we are likely to get some much needed answers. 
If you missed Criminal Minds, you can watch the clip for yourself below:
Mic has ongoing coverage of CBS' television series. Please follow our main CBS hub here.