Bill that would fine men for masturbating moves forward in Texas legislature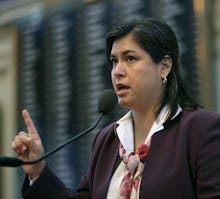 That playfully misandrist masturbation bill, the one that would fine men $100 for spilling their seed outside a uterus, is moving forward through the Texas state legislature, according to the Independent. 
The Man's Right to Know Act, or House Bill 4260, has landed with the State Affairs Committee after a first reading in the House. Its author, Rep. Jessica Farrar, has been adamant that the bill — which takes the most common abortion-restrictive measures and applies them to cis men — is satirical. She drafted it to prove a point, without any expectation that it would actually become law. 
"There are inconsistencies in their [GOP lawmakers'] argument about the sanctity of life," Farrar said in a previous interview with Mic. "If this is really about the sanctity of life, semen is a really important piece to that formula and we can't be wasting it, if that's the case. It should be used for what it was meant to be used for and that is to create life."
Thus the proposed fine for ejaculation that occurs outside a womb or a designated masturbatorium that will preserve semen for future baby-making purposes. HB 4260 also proposes subjecting men to medically unnecessary rectal exams; waiting periods before they can get Viagra and vasectomies; and the whims of moralizing doctors whose personal beliefs clash with the patient's request for particular procedures.
As the Houston Chronicle pointed out, the State Affairs Committee usually fields abortion restrictions, which abound in Texas. By mid-January, the state legislator had already seen eight anti-abortion rights measures introduced. 
Perhaps it will be a fun change for the members of the State Affairs Committee to ruminate a bill that flips the restrictive laws with which they are so familiar. Then again, perhaps not. As the Independent pointed out, the Man's Right to Know Act would require the approval of stringent abortion rights opponent and the committee's chairman, Rep. Byron Cook, to pass. 
Predictably, the Republican men of the Texas House haven't gotten behind HB 4260. When Farrar initially filed her bill in March, Republican Rep. Tony Tinderholt, who has backed some extreme anti-abortion rights measures, told the Texas Tribune that "her attempt to compare [HB 4260] to the abortion issue shows a lack of a basic understanding of human biology." 
If Farrar's comparisons do not reflect "a basic understanding of human biology," though, that says something about the legislation upon which her bill is modeled. Speaking about Farrar's HB 4260 and similar proposals, Jennifer Lawless, a professor of government at American University and director of the Women and Politics Institute, told Broadly: "It's not that these bills are written to be satirical, but the fact that they are considered satirical demonstrates the double standard."