California immigrant teen accepted to all 8 Ivy League schools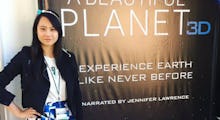 A California teen who once rapped to Lin-Manuel Miranda is facing a totally relatable dilemma: Having been accepted to each Ivy League school, which should she attend? 
Cassandra Hsiao, who came to the United States from Malaysia when she was 5, has been accepted to all eight Ivy Leagues — Yale, Princeton, Harvard, Yale, Cornell, Columbia, University of Pennsylvania, Dartmouth and Brown — KABC reported. 
"It's incredible," Hsiao, 17, told KABC. "It is absolutely beyond my wildest dreams."
According to KNBC, Hsiao is a first-generation immigrant from Malaysia. Hsiao told KABC she wrote her essay about what's it like to grow up speaking two languages and the difference between language "inside the house and outside the house." 
Hsiao got a 1540 on her SATs and has a 4.67 grade-point average. She hasn't decided on a major, but is thinking of the storytelling arts. 
That's not all. Like any well-rounded high school student, Hsiao has a list of extracurricular activities to her resume. According to KNBC, she's one of two student body presidents, editor-in-chief of the school's magazine and has conducted dozens of on-camera interviews for publications like Los Angeles Times' High School Insider and BYOU Magazine, with celebrities on red carpets and more. She curates these interviews on her YouTube channel. 
Hsiao is also a playwright and film critic, according to her Twitter account. 
"She's multifaceted," Josh Wood, her high school's creative writing director, said to KNBC. "She's such a go-getter and makes opportunities for herself."
Oh, and here's the video of that time she rapped to Miranda at a Moana press conference. 
If Ivy League schools are not to Hsiao's taste, she also has her pick of plenty of institutions. KNBC reported Hsiao has also been accepted to Stanford University, John Hopkins University, the University of Southern California, Northwestern University, New York University, Amherst College and a few in the University of California system. 
Hsiao did not immediately reply to Mic's request for comment, but we get it, she's busy.