What is happening in Syria? A timeline of the Syrian civil war and what you need to know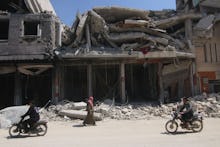 UPDATE: The U.S. on Thursday night carried out a missile strike on a government airbase in Syria, a few days after a chemical weapon attack, believed to be carried out by Syrian government forces, killed more than 80 civilians in Khan Sheikhoun, in the northwest part of the country. Multiple sources reported Thursday that the missile attack was in direct response to the chemical attack; the order to strike came directly from the White House. Mic's original story appears below.
His name was Hamza al-Khateeb. At 13 years old, he was arrested by President Bashar al-Assad's regime during a protest, tortured and killed.
When his body was returned to his family a month later, the boy had been shot, burned and beaten. His neck had been broken and his penis had been chopped off.
His 2011 killing, then-Secretary of State Hillary Clinton said, signaled a "total collapse" in the Assad regime's willingness to work with its people, as protests in Syria and across the Middle East and North Africa intensified.
The country would soon become engulfed in a brutal civil war that has left more than 465,000 Syrians dead and more than 12 million displaced, and on Tuesday the Assad regime killed more than 80 people in a chemical attack.
That attack, perhaps the worst of its kind since 2013, was the latest chapter in a civil war that has been raging for six years and has become the 21st century's deadliest conflict so far.
Here is what is happening in Syria now — and how it got to this point.
Dozens of Syrians gassed by Assad regime
Assad's chemical attack on his own people, the third in just over a week, has elicited international outrage, with many labeling the gassing that left dozens of Syrians dead a "war crime."
The poison caused victims — including children — to writhe, choke and foam at the mouth.
The Assad regime claimed rebels were behind the attack, but only the Syrian government was capable of carrying out an aerial attack like Tuesday's, the New York Times reported.
President Donald Trump condemned the attack in a news conference on Wednesday, calling it a "terrible affront to humanity" that "crossed a lot of lines" for him. "My attitude toward Syria and Assad has changed very much," Trump said.
Trump, who has repeatedly blamed former President Barack Obama for the atrocities occurring there, previously argued against removing Assad from power in Syria, which is backed by Russia.
After Trump hinted the United States may intervene militarily in the conflict, Russia challenged the president — whose administration has been plagued by connections to Russia — to make the U.S. strategy clear.
"Russia's approach to Assad is clear. He is the legal president of an independent state," Russian foreign ministry spokeswoman Maria Zakharova told CNN in a text message. "What is the U.S. approach?"
On Thursday, it was reported that Trump told members of Congress he was considering military action in Syria.
Syrian civil war has been going on since 2011
The conflict arose in 2011 from the Assad regime's response to the pro-democracy protests that emerged in Syria during the Arab Spring.
The violence began in March of that year, when activists say government forces killed five demonstrators in Daraa. Just over a month later, the regime killed dozens of civilians in the city as protests continued across Syria.
The U.S. imposed sanctions on Assad and several other members of his government for human rights abuses that May, and in August imposed sanctions on the Syrian government, demanding Assad, who has ruled the country since taking over for his father in 2000, resign from power.
After a year of fighting, at least 8,000 people — mostly civilians — had been killed as government forces continued their violent crackdown on civilian protesters and rebel groups, under the banner of the Free Syrian Army, battled to overthrow the Assad regime.
Other rebel coalitions, such as the Islamic Front and the Syrian Islamic Liberation Front, would also form as the war went on; by 2013, two years into conflict, 100,000 soldiers — part of an estimated 1,000 armed rebel groups — were fighting against the Assad government.
By that point, a United Nations-backed ceasefire had failed, the Syrian government had threatened to use weapons of mass destruction against a foreign attack and about 100,000 Syrians had died. Assad had also violated the "red line" the Obama administration had established in 2012 against the use of chemical weapons when the government used sarin gas to kill 1,400 of its citizens near Damascus.
The Obama administration did not take military action at the time, but was able to enter the country and remove and destroy at least a significant amount of its chemical weapons. The U.S. would conduct airstrikes in 2014 against ISIS forces in the country that had clashed with the Free Syrian Army and other opposition groups and captured the city of Raqqa.
In September 2015, Russian President Vladimir Putin announced that Russia is supporting Assad's government against the "terrorist aggression" of ISIS, and Russian and Syrian forces conducted devastating airstrikes in rebel-held territories. The U.S. and its allies, meanwhile, continued in 2016 to conduct airstrikes against ISIS after a temporary ceasefire at the beginning of the year.
In September 2016, Aleppo was bombarded with 200 airstrikes in a single weekend in what some called an unprecedented level of violence in the civil war. Those bombings resulted in what is now perhaps the most iconic image of the Syrian conflict: a small child, Omran Daqneesh, sitting in an ambulance, his face covered in blood.
By December 2016, rebel groups ceded control of Aleppo to Russian-backed Syrian forces. Nearly 600 civilians — more than 100 of them children — were killed there over the course of about a month in what was described as a a "complete meltdown of humanity."
Assad claimed the fall of rebel-held Aleppo as a historical turning point for pro-government forces in the Syrian civil war.
"What is happening today is the writing of history," he said.
The world watches on as the horror in Syria continues
In an interview published Thursday, Assad said that there is "no option except victory" for the government in the Syrian civil war.
"As I said a while ago, we have a great hope which is becoming greater; and this hope is built on confidence, for without confidence there wouldn'??t be any hope," Assad told a Croatian newspaper. "In any case, we do not have any other option except victory."
Meanwhile, the U.S. government — which has mostly responded vaguely to Tuesday's chemical attack — is considering its military options.
Americans have been split on what the U.S. role should be in the Syrian conflict. They are moved by the horrific images coming out of the country, but have been reticent to get involved. Most favor only limited military intervention, and a minority of Americans favor admitting Syrian refugees into the U.S., surveys have found.
Humanitarian groups have been critical of the international community's response to the Syrian civil war — and are urging people to help.
"The images of children choking and dying in the streets of Idlib, Syria, following alleged chemical weapons attacks, are as horrific as they are heartbreaking," UNICEF executive director Anthony Lake said in a statement. "These attacks must do more than provoke our outrage; they must compel action by those with the power and the ability to bring an end to this devastating violence."
April 6, 2017, 9:48 p.m. Eastern: This story has been updated.