Xbox Project Scorpio vs PS4 Pro specs: How they compare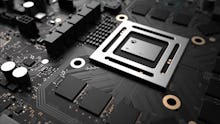 Microsoft's Project Scorpio console received some fanfare this April, thanks to an exclusive reveal. Unfortunately, since it was on the tech-heavy Digital Foundry site, we shouldn't have expected anything more than raw numbers, and that's exactly what we got.
The good news is we now know exactly how Project Scorpio compares to PS4 Pro.
Xbox Project Scorpio vs. PS4 Pro: How they measure up
Digital Foundry has a helpful chart that lays out the specs of the two consoles (as well as those of the base Xbox One) against each other. As expected, Project Scorpio exceeds the PS4 Pro in almost every way, though how this actually manifests in games has yet to be revealed.
It does appear to hit its promised six teraflop target, a significant increase over the 4.14 teraflops offered by the PS4 Pro. To quote Polygon's Justin McElroy, in layman's terms, that means it is "very fast and good." Its ability to produce video game visuals is a massive overhaul in comparison to the original Xbox One and the PS4 Pro.
Every other quantifiable stat, from CPU and GPU performance to memory bandwidth, also exceeds PS4 Pro. It doesn't mean much without any test data available for how a game runs on the system. Scorpio has a 4K UHD Blu-Ray disc drive, unlike the PS4 Pro. If you want to own the highest quality physical media for your entertainment center, Scorpio will work for you, but PS4 Pro won't.
This news dump is specifically tailored to people who really know their stuff when it comes to video game tech, so if you feel lost, we understand. Microsoft will likely show us some super impressive Forza Motorsport footage later this year at E3. At that point, it will be easier to understand what this thing can really do and whether or not you want to buy it. 
If you need a solid video analysis of the specs, Digital Foundry has your back.
More gaming news and updates
Check out the latest from Mic, including our deep dive into how female Overwatch players are dealing with online harassment, an article about a fan movement advocating for more same-sex romance options in Mass Effect, a cool making-of video for Legend of Zelda: Breath of the Wild and an article about what a Bechdel test for gaming might look like.