How Kristen Stewart became an icon for her generation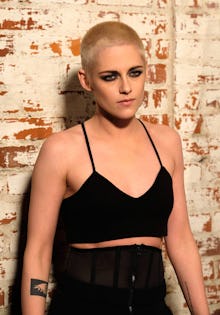 It all started with a little movie called Twilight. 
Kristen Stewart had been acting for years prior to the franchise that made her famous, starring in films like Panic Room, Catch That Kid, Into the Wild and Zathura. But it was the role of Bella Swan that turned the then 18-year-old into a household name. 
After four more Twilight movies, Stewart found herself at a crossroads. Transitioning from the face of a teenage blockbuster phenomenon about everlasting vampire love to a respected actor is a complicated task few have pulled off. Following the final film in the franchise, The Twilight Saga: Breaking Dawn Part 2, Stewart took a step back and restrategized. 
Now, at just 27 years old, not only has Stewart reinvented herself as an actress, she's never been more unapologetic about being exactly who she is.  
After Twilight wrapped, Stewart did the blockbuster thing once more with Snow White and the Huntsman, which was another box office win for her. And then it all stopped. She took a year off before returning in 2014 with the roles that would change how the public saw her as an actress. 
In 2014, Stewart appeared in three movies that set the tone for her career. Still Alice, Camp X-Ray and Clouds of Sils Maria. The films received glowing reviews, and Stewart's performances earned her some of the best notices of her career. Stewart had successfully made the leap from teenage superstar to serious actress, but she wasn't done just yet. 
In 2016, Stewart had another standout year. With supporting roles in films like Certain Women and Café Society, Stewart continued to find herself in critics' good graces. But with her most recent film, Personal Shopper, the actress had earned some of her most glowing reviews ever for her remarkable performance. At the same time, it appeared she'd finally come into her own.
Teaming up again with her Clouds of Sils Maria director, Olivier Assayas, the two crafted another gem. The film feels totally on brand for Stewart, which helps because Assayas wrote the role of Maureen Cartwright just for her. It's clear in every minute she graces the screen she is giving an authentic and haunting performance as a woman dealing with grief in her life. Maureen, like Stewart, is just trying to figure herself out.
The post-Twilight Stewart re-examined her career and shifted her focus. Instead of trying to recapture the stardom she was handed with the billion-dollar franchise, she decided to do something completely unexpected: be herself. In doing so, Stewart's public persona has never been more alluring. 
Stewart hosted Saturday Night Live in February. Not only did Stewart, who is certainly not known for her comedic timing by any means, earn decent reviews as host, but she had a big moment during her opening monologue. 
While taking aim at President Donald Trump, Stewart, a role model to many, officially came out to an audience of roughly 10 million viewers. In that moment, Stewart shed any remaining ideas of who the public thought she was by telling everybody exactly who she is. 
Her appearance and style is maybe the most obvious declaration that Stewart is all out of fucks to give. Not only has she become a style icon, and is inarguably the best-dressed actress of her generation, she just exudes such confidence without trying too hard. Stewart is currently rocking a blond buzz cut, and we've never been more obsessed with how free of flaws she looks. 
So, here's to Kristen Stewart, who celebrates her 27th birthday by being completely who she is now more than ever. In the years since the franchise that catapulted her into another realm of stardom began, the actress has reconstructed her career to fit who she is, not the other way around. 
Mic invites contributors and staff members to offer commentary and context about news and timely issues.
Mic has ongoing movies coverage. Please follow our main movies hub here.