When will the 'Will & Grace' revival premiere? 5 things we know about the reboot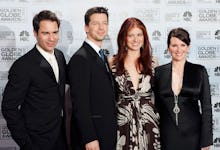 From the 1990s up through the turn of the century, NBC was the clear king of comedy. The network's "Must See TV" lineup on Thursday nights included hit shows like Seinfeld, Friends, Frasier and, of course, Will & Grace. Unfortunately, all good things eventually come to an end, and one by one, some of NBC's top comedies concluded their run. 
In 2006, Will & Grace became the last of those comedies to say goodbye. And since then, an argument could certainly be made that the network has had trouble recreating its former glory days. But now, thanks to a recent trend of nostalgia programming, as well as a popular viral election-themed reunion, Will & Grace has been renewed for a limited run on NBC. 
So, before you revisit one of your favorite groups of friends from the early 2000s (unfortunately no, not at Central Perk), here is what you need to know about the new Will & Grace revival. 
1. 2017-2018 season 
Will & Grace's renewal does not mean that the series is still in its early planning stages. Rather, it appears that production is nearly underway, and the series will premiere sometime during the 2017-2018 television season. Initial reports stated that the series premiere will air somewhere in late 2017 to early 2018.
While it is not entirely clear exactly when Will & Grace will hit our screens, or which day it will call home, we may get a better idea during NBC's Upfront presentation, which reports indicate will heavily feature the series. 
2. Episode order
While we do not yet know when Will & Grace will premiere, we do know how many episodes we should expect. When the series was initially renewed in January, NBC announced that it was ordering 10 episodes for the revival. Well, Deadline is now reporting that NBC has decided to up that order to 12 episodes, meaning we will get to enjoy at least an additional hour of hilarity. 
3. Plot
At this point, not much is known about the revival's plot. During Will & Grace's initial run, it broke new ground by featuring two gay lead characters, paving the way for future series to do the same. Whether the revival is impacted by any topical social issues is unclear. But unsurprisingly, Deadline's report suggests that the series will pick up 10 years after its 2006 finale. 
Of course, there is an issue of how the creators will deal with the finale's jump forward to 2026. Debra Messing addressed that issue in an interview with E! News, stating, "I've been assured by our brilliant show creators that they have very quickly and magically created a universe in which we're all back together." So, there you go.
4. Honoring Debbie Reynolds
When Will & Grace does return, there will be some past members of the cast who will not appear. Fans of the hit show know that the late Debbie Reynolds, though not a frequent recurring cast member, played the mother to Debra Messing's Grace. In her interview with E! News, Messing let on that the series will absolutely "honor" the late icon. 
5. It will be funny, obviously
The series' stars aren't letting on exactly what the revival will be about — at least not yet. One thing that is for sure, though, is that the goal of the series will first and foremost be to make the audience laugh. Megan Mullally, who plays Karen Walker, said as much in a recent interview with Paste:
"I think we're shooting them to make 10 really funny episodes," explained the actress. "I think that was a secret of the show's success originally. I mean, the show was very topical, but primarily it was just funny, especially in the dynamic between the various characters, and I think that's what they're going for this time."
Mic has ongoing coverage of Will & Grace. Please follow our main Will & Grace hub here.