Steve Bannon vs. Jared Kushner: How Bannon's demotion shifts power in Trump's White House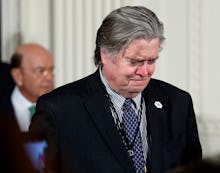 President Donald Trump's appointment of Steve Bannon, who once ran a website that trafficked in white supremacy, to the National Security Council was one of the president's most contentious decisions. Politicians on both sides wondered why the president would place a political appointee in a position with such military power and influence.
But on day 77 of Trump's presidency, things are different. The president removed Bannon from the council on Wednesday. (Turns out, Trump may not have understood what he was signing when he placed Bannon on the NSC.) In his place, Energy Secretary and former Texas Gov. Rick Perry has moved in.
The whole thing sounds like a power struggle — one that Bannon is losing. It also bodes poorly for the influence of Bannon's far-right ideology on the Trump administration. Reports suggest the break-up was not pretty: Bannon reportedly threatened to resign if he was cut from the NSC. Bannon's aides said his NSC role was to keep an eye on since-ousted National Security Adviser Michael Flynn, with the president's chief political strategist going to few NSC meetings lately. "I was put on to ensure [the NSC] was de-operationalized," Bannon said in a statement.
Other reports peg this as a win for national security adviser H.R. McMaster and Trump's son-in-law Jared Kushner. The Washington Post reported McMaster is formalizing decision-making processes that answer to him and developing a clear chain of command. Previously, some political advisers had been plotting national security strategy outside that structure.
The fight between "nationalists" and "West Wing Democrats" reaches a breaking point as Kushner assumes more White House control. Politico reported Ivanka Trump's husband played a key role in Bannon's NSC removal. That comes as Trump's eldest daughter enjoys a new West Wing office and her husband takes on the roles of bureaucracy reformer, unofficial diplomat and more.
Breitbart tried to paint the removal of its former boss as a nonstory. The site noted Bannon would keep security clearance and could still attend NSC meetings. But given Kushner's efforts to marginalize the alt-right ideology around Trump, this demotion can only be read as the president publicly breaking with a longtime ally. Time will tell if Bannon stays on at the White House and whether Trump will take a new approach to the presidency.
By the way, Mic offers insightful coverage of the proliferation of the far-right across the U.S. Here's a recent example.
This is Mic's daily read on Donald Trump's America. Welcome to the political newsletter that can feel the palace intrigue. 
Feel the power:
•  Today: Steven Bannon is out at the NSC. Here's what that means.
•  More: Republicans are set to achieve their only notable legislative win in Donald Trump's first 100 days: confirmation of Neil Gorsuch.
•  Even more: Trump drew many "red lines" on Syria. How that changes America's role is unknown.
•  Trump's agenda today: Flying to Florida. Meeting Chinese President Xi Jinping. More on that below.
Gorsuch inches ever closer to the bench
Republicans will gain their first and biggest legislative victory when they advance Judge Neil Gorsuch closer to the Supreme Court. On Thursday, Republicans will likely move to break an expected Democratic filibuster of Gorsuch. Without the 60 votes necessary to advance Gorsuch's nomination, Sen. Majority Leader Mitch McConnell will ask the Senate to consider requiring only 51 votes to confirm the nominee. Enough Republicans are expected to comply, though Vice President Mike Pence will be on hand to break a tie. That vote will trigger an additional 30 hours of debate, with a final vote on Gorsuch expected Friday evening.
Sen. Kamala Harris (D-Calif.) wrote an op-ed for Mic about why Gorsuch is dangerous for the country. Read it here.
No deal on health care as Congress leaves Washington
The GOP will celebrate its controversial Gorsuch confirmation, but congressional Republicans have few other accomplishments to point to. Last-minute negotiations on health care failed to produce a deal. Pence frequented the Capitol this week to push conservatives to support reform, but it appeared to have little effect. "I'm surprised we've been this incompetent," one GOP congressman said Wednesday.
The House is on a two-week break after Thursday, with senators leaving after Gorsuch's confirmation sometime Friday. When Congress returns, Trump's first 100 days will be nearing their end. It remains to be seen whether the president, desperate for a victory, will be willing to cut a deal with Democrats in that time frame.
The president draws lines all around Syria
The president wants you to know he has a Syria strategy — one he is surely not going to share with you. At a Wednesday press conference with King Abdullah II of Jordan, Trump said a chemical weapons attack in Syria that killed children was an "affront to humanity" and "crossed many, many lines." Trump said how he views Syria "has changed very much," but offered no specifics on how the U.S. will change policy toward Syrian President Bashar al-Assad. The comment was also notable because in 2013, he urged President Barack Obama to not interfere in Syria after Assad killed more than 1,400 people with chemical weapons.
News and insight you cannot miss:
•  Rep. Devin Nunes, the chair of the House Intelligence Committee, has stepped away from the investigation into alleged ties between Trump and Russia. The move was not expected.
•  At the EPA, officials want to eliminate programs that curb the harm lead paint poses to children. (Washington Post)
•  Republicans are worried about Jon Ossoff's chances in Georgia — so they hit him with an Islamophobic attack ad. (Mic)
•  Trump says Rep. Elijah Cummings believes he will "go down as one of the greatest presidents in the history of our country." Cummings had a very different take. (Mic)
•  Ivanka has held secret meetings with Planned Parenthood, but it has yet to translate into a White House pivot away from attacking the health organization. (Mic)
The presidents of America and China meet in Florida
The president will fly to Mar-a-Lago this afternoon and dine with Chinese President Xi Jinping tonight. Here's what to expect.
Without key trade and China policy staff in place, Trump will push Xi aggressively on trade and North Korea. Trump said last week the meeting with Xi "will be a very difficult one" given Trump's anti free-trade positions and recent aggressive comments toward North Korea, an ally of China. Markets are watching the meeting nervously, especially in Europe, where economic instability could be worsened by a trade spat between the U.S. and China.