Taco Bell has a hidden vegan menu — here are the 10 best dishes to order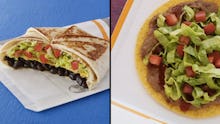 Anyone who thinks vegan food can't be cheap and quick has never ordered right at Taco Bell. 
While the fast food chain is beloved for its Chicken Chalupas and Beef Crunchwrap Supremes, the majority of the menu can be made vegan with a few simple swaps. 
Vegetarians and vegans have flocked to Taco Bell for years, and in 2015, the chain partnered with the American Vegetarian Association in 2015 to create a certified vegetarian menu. Taco Bell sells 350 million vegetarian items a year, and there are 5.7 million vegetarian combinations. The possibilities!
And if you're avoiding animal products entirely, there's still plenty to choose from. In fact, the chain is so vegan-friendly that vegan activist group PETA is launching an advertising campaign on Friday to encourage customers to choose beans over animal proteins. PETA will be handing out free bean burritos at several locations. (FYI: You can swap beans for any meat with no extra charge.) 
Worried a cashier might get confused by your custom order? You can use the Taco Bell iOS app to make your substitutions crystal clear. 
Pro tips for eating vegan at Taco Bell
"Make It Fresco"
Ordering the "Make It Fresco" option replaces cheese and sour cream for pico de gallo. Taco Bell's pico de gallo is certified vegan — plus, if you're looking to lighten up your meal, it has significantly less fat and fewer calories than dairy. Be warned that checking "Make It Fresco" on the app often unchecks guacamole — make sure to recheck it if guac is important to you.
Get some protein
Black beans and refried beans are certified vegan — and they're also great plant sources of protein and fiber. No meat, no problem.
Rice with caution
Taco Bell's seasoned rice is not vegan. It is certified vegetarian but may contain milk. Do with that information what you will.   
Choose avocado wisely
Taco Bell guacamole is certified vegan. Avocado ranch sauce is not vegan. 
Be mindful about how you wrap it all up
Taco shells, Gordita flatbreads and tostada shells are certified vegan. The taco salad shell is not. 
Scrutinize those condiments
"Hot" and "Mild" hot sauce packets are certified vegan but "Fire" is not. (And drowning beans with hot sauce makes them exponentially better, so don't forget to toss a few packets in your takeout bag.) 
The 10 best vegan orders at Taco Bell 
Getting hungry? Listed in no particular order, here are 10 Taco Bell dishes you can "veganize" with minimal effort. 
[Editor's note: Not every ingredient in the following dishes is "certified vegan" according to the Taco Bell site. Please check with your local Taco Bell to ensure an order meets your specific needs.] 
Seven-Layer Burrito 
Veganize it: Order without cheese or sour cream. 
Crunchwrap Supreme
Veganize it: Order beans instead of meat and guacamole instead of sour cream and cheese. Add potatoes (not certified vegan but still delicious) if you're feeling wild. 
Bean Burrito
Veganize it: Order it without cheese and sour cream. Grill it for extra deliciousness. Take or leave the rice depending on whether it bothers you that it contains traces of dairy. 
Bean Tacos
Veganize it: Order it with no cheese and sour cream. Add salsa. 
Spicy Potato Tacos
Veganize it: Order it without cheese and sour cream and add guacamole. 
Soft Taco Supreme
Veganize it: Order it with no beef, cheese or sour cream. Add beans and guacamole. 
Spicy Tostada
Veganize it: Order it with no cheese and no sauce. Add salsa, guac or both! 
Triple Layer Nachos
Veganize it: Order it with guacamole or pico de gallo instead of nacho cheese sauce. 
Fiesta Taco Salad
Veganize it: Order it with no cheese, no sour cream and no beef. (Red strips, the small red tortilla chips, are certified vegan but the salad taco shell is not, so do with that info what you will.) Add guacamole and jalapeño peppers. Add potatoes if you want extra substance. 
Veggie Power Menu Bowl or Burrito
Veganize it: Order it with no cheese and no sour cream.