North Carolina church kicks out Boy Scouts for accepting transgender kids, embracing "sin"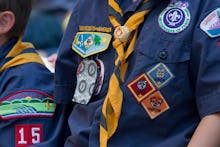 A church in Mooresville, North Carolina, has disinvited the local Boy Scouts of America troop from holding their meetings there because of the organization's decision to allow transgender boys to join the Boy Scouts' ranks, the Charlotte  Observer reported. The troop has met at Coddle Creek Associate Reformed Presbyterian Church for more than 10 years. 
In January, the Boy Scouts of America reversed its previous policy of using birth certificates to determine membership eligibility. Since then, other scout troops have welcomed trans boys into their ranks.
The church, located about 30 miles north of Charlotte, doesn't seem to actually be boycotting an individual transgender member. Nowhere in the Observer's article does it say that a transgender boy tried to join the North Carolina troop housed at Coddle Creek. Rather, Pastor Andrew Shoger's statement says he can't support the organization's overall policy on trans members. 
"For more than 10 years, Coddle Creek Associate Reformed Presbyterian Church has hosted and chartered Boy Scout and Cub Scout groups," Shoger said in a statement to the Observer. "However, due to decisions by the Boy Scouts of America regarding matters of homosexuality and gender identity, the ... church has determined that our church can no longer continue as partners ... of BSA.
"Quite simply, we cannot partner with an organization that embraces what God's Word clearly labels as sin."
Shoger, ever the Christian, said the church would allow the troop time to find a new home before kicking them out, though he didn't say how long that agreement would last. 
People have begun to flood the church's Facebook page with one-star reviews since the news broke. 
"Ever wonder why church numbers are down across the nation," one person wrote. "It's because of judgmental people like the leader of your church." 
Coddle Creek Associate Reformed Presbyterian Church did not immediately return Mic's request for comment. 
North Carolina has no shortage of evidence in discriminating against transgender people. After passing the controversial bill HB2, which required people to use the bathroom that matched their gender assigned at birth, the state allowed to the bill to stay on the books for more than a year. The state then passed a repeal bill. North Carolina Republicans quickly introduced a new one to Congress that would up the punishment for "trespassing."