Tragic video shows a Syrian father burying twin toddlers killed in suspected sarin attack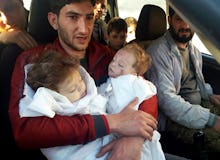 The photos of 29-year-old Abdel Hameed Alyousef cradling his 9-month-old twins, killed in a suspected chemical attack on his Syrian town of Khan Sheikhoun on Tuesday, are poised to become one of the most heartbreaking images to come out of the deadly attack. 
A video shared online on Thursday shows the gut-wrenching moment that a visibly distraught Alyousef buried his twins, Aya and Ahmed. In the video he can be heard saying, "My blonde baby, I told you I would never leave you," according to subtitles. The video was reportedly filmed by Alyousef's cousin Alaa Alyousef, BuzzFeed reported on Thursday.
Twenty-two members of Alyousef's family were killed in the attack on Tuesday, including his two children and his wife, Dalal Ahmed, after their town was bombed with what is believed to be sarin gas, the Associated Press reported on Wednesday.
More than 80 people were killed in Tuesday's attack, the AP reported. Alyousef told the AP that, when the bombs hit, he was home with his family. "I carried them outside the house with their mother," he said. "They were conscious at first, but 10 minutes later we could smell the odor."
Alyousef brought them to paramedics and left his family in their care while he went back to look for the bodies of other relatives, the AP reported. He had believed they would survive, and only found out later that his wife and two children had died.
"I couldn't save anyone. They're all dead now," he told the AP.