'MLB The Show 17' Diamond Dynasty Rewards: How to get all the unlockables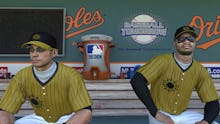 Sifting through all of the content available in MLB The Show 17's Diamond Dynasty can be challenging and fun, but also a little intimidating. If you're struggling to keep track of all the rewards and unlockables available, you've come to the right place.
MLB The Show 17 Diamond Dynasty unlockables guide
Crafting a plan of attack is advisable and having access to a guide that tells you what rewards you'll get for each action is invaluable in your quest to upgrade your team. Thankfully, Twitter user PandaWaffleHD has created such a guide, and it's amazingly detailed and well-organized.
He also graciously shared this guide in the form of a Google Doc for all to see. This is a work in progress, so some of the fields in the document aren't complete, but PandaWaffleHD is apparently grinding every day to add all of the information for existing missions and tasks, as well as future challenges Sony plans to release for the mode.
PandaWaffleHD's guide is just the latest example of how crowdsourced information is augmenting the appeal of a sports video game. Various roster makers for almost every sports game offer a similar hand up with their hours of work and dedication. The same can be said for YouTubers who publish tips, tutorials, gameplay and commentary.
There's no question, the sports gaming universe is better off because of gamers like PandaWaffleHD.
More sports gaming news and updates
Are you a sports gamer? Check out more content from Mic, including tips for leveling up your NBA 2K17 MyPlayer, playing quarterback in Madden 17, our review of MLB The Show 17 and the classic Nintendo sports games we want to see on the Switch.