A brief history of Madonna's feud with Pepsi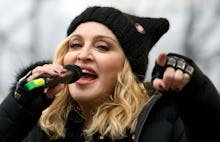 Madonna has been one of Pepsi's biggest foes for the past 28 years. And after the uproar around the release of the soft drink giant's ad starring Kendall Jenner, which many say co-opted activism movements, the pop icon has renewed her public disapproval of the soda company. Here is brief look at the legendary singer's multi-decade feud with Pepsi.
1989
Back in 1989, the singer formed a business deal with Pepsi. Their agreement had her starring in a TV ad for the soda company, with Pepsi also sponsoring the singer's world tour. Madonna's commercial debuted on March 2, 1989, and featured the pop star singing her song "Like a Prayer" and reminiscing about her time as a young girl.
The next day, Madonna debuted her official "Like a Prayer" music video, which included religious imagery, "romantic love with a priest or saint" and burning crosses, the New York Times reported. But consumers thought the video and her Pepsi commercial were the same. Members of the American Family Association began to protest Pepsi's affiliation with Madonna. By April 1989, the company pulled the ad and eventually backed out from sponsoring her tour. 
"When you've got an ad that confuses people or concerns people, it just makes sense that that ad goes away," a Pepsi spokesperson said at the time. 
1999
In 1999, Madonna showed up to the Grammys dressed in all red to match a Coca-Cola can she carried with her — Coca-Cola being Pepsi's biggest rival. Madonna shared the photo on her Instagram page Wednesday. 
2017
Amid news of Pepsi's commercial featuring Jenner, Madonna made it clear that she still holds a grudge against the company for pulling her ad almost 30 years ago. She wrote on Instagram, "When you wake up and realize that shit just really doesn't make sense! ????#chosen ????Side Note: My Pepsi commercial was pulled 30 years ago because I was kissing a black saint! ???????? #ironic."
Mic has ongoing coverage of Madonna. Please follow our main Madonna hub here.