New head of House's Russia probe thinks Mexican soap opera stars influenced the election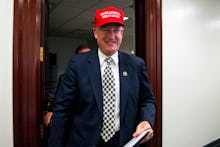 There's a new Republican in charge of the House Intelligence Committee's investigation into President Donald Trump and his campaign's possible Russian ties.
And his views on who may have influenced the outcome of the 2016 election are unique, to say the least. 
In an interview with the Dallas Morning News in January, Rep. Mike Conaway (R-Texas) compared the Russian email hacking to Democrats' use of Mexican pop-culture figures to get out the vote.
"Harry Reid and the Democrats brought in Mexican soap opera stars, singers and entertainers who had immense influence in those communities into Las Vegas, to entertain, get out the vote and so forth," Conaway told the the News. "Those are foreign actors, foreign people, influencing the vote in Nevada. You don't hear the Democrats screaming and saying one word about that."
Conaway said those Mexican surrogates were on par with the Russian cyberattacks. "It's foreign influence," he said. "If we're worried about foreign influence, let's have the whole story."
Conaway is one of three Republicans stepping in to lead the House Intelligence Committee's Russia investigation, after chairman Devin Nunes unexpectedly recused himself Thursday, citing an ethics committee probe. 
The two other Republicans who will help Conaway investigate the matter include Rep. Trey Gowdy (R-S.C.), who ran the House Select Committee on Benghazi that spent millions of dollars over multiple years to turn up nothing, and Rep. Tom Rooney (R-Fla.).
House Speaker Paul Ryan heaped praise on Conaway and his ability to lead the Russia investigation.
"I am confident that [Conaway] will oversee a professional investigation into Russia's actions and follow the facts wherever they lead," Ryan said in a statement.