A Portland man tried to give his mayor a Pepsi to end a conflict. It didn't go so well.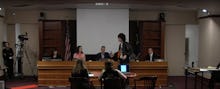 No matter what Pepsi tells you, authority figures don't like being handed a can of soda by surprise.
After Pepsi got a hefty dragging for its protest-themed ad starring Kendall Jenner, a man at a Portland, Oregon, city council meeting caused a commotion by getting up from his seat and approaching Mayor Ted Wheeler to hand him a can of Pepsi during a tense moment. 
According to CBS News, the council was debating an ordinance that would allow Portland to tow boats left on city docks. After introducing himself, the man began to go off on a tangent that had nothing to do with the matter at hand. 
"I have to say I'm very surprised at like how there's so many people that show up to city council to just kind of like get angry at you and yell at you," the man said. "It made me kind of wonder, how could someone just endure people coming and berating you every week." 
When the mayor tried to get him back on track, the man said, "The language of resistance has not been properly translated to you." 
At this point, the man got out of his seat and approached the mayor, put his hand in his pocket and gave the mayor a Pepsi.
Let's just say the mayor, and the security guards flanking him, did not accept the cola as graciously as the police did when Kendall Jenner handed them one in the ad. They rushed to escort him away from the mayor.
At one point, the man said his name is Carlos Henriquez and that he worked for the Boston Herald. However, the Boston Herald confirmed to KUOW that, while an Henriquez worked there more than 10 years ago, he and the man in the video are almost certainly not the same. 
"Not a smart move," Wheeler said to the man. "I do appreciate it, but don't do that again."
He added, "If this were the Boston city council, that would've ended differently." 
Pepsi, which pulled the ad and apologized to Kendall Jenner, should just accept the truth: Authorities actually don't like it when you approach them with a can of cola.