Claire Danes perfectly explains why her 'Homeland' character doesn't need a sex life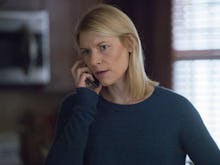 We are only days away from the season six finale of Homeland on Showtime, and fans of the hit political-thriller may notice that it has been quite a while since the series' lead character, Carrie Mathison, played by actress Claire Danes, has been part of any romantic storylines. And while past seasons of Homeland have explored Carrie's romantic interests — from Brody to Peter Quinn — there is a reason why the series does not need to continuously harp on it.  
According to Us Weekly, Danes discussed Carrie's current state of romance at a recent Los Angeles press event for Homeland. "I actually think there are a lot of romances at play with Carrie this season — they're just not sexual," said the Golden Globe-winning actress. "With Quinn and Saul and with Frannie — she has deep attachments, but very complex attachments to these primary characters."
And Danes appears to relish the fact that Carrie's sex life does not need to take center stage on Homeland — especially since that can often be a main story arc for female protagonists on television. "That's one of the great gifts of this world and this job is that she is so much bigger than her gender," Danes explained. "She's defined by her ethics, her moral self, her political ambition, her bipolar condition. There's just so much at play."
While none of this means Carrie Mathison is done with romance altogether, for now, the character is trying to make up for past "transgressions," and is "devoted to doing the right thing," Danes said. "There's some confusion about what that right thing actually is, but she's doing her darnedest to put a heavy, heavy lid on it. It would be a boring show if she were able to do that all the time."
If there is one thing for sure about Homeland, it is that the show is anything but boring. Throughout its six season run, the Showtime thriller has taken on hot-button issues while exploring intelligence activities in areas both foreign and domestic. Season six has been particularly interesting as it has focused on the aftermath of a heated presidential election — which, of course, is highly relevant right now. 
And while some fans may eventually want to see Carrie find some happiness in the form of a healthy romance, the lack of one has not caused the show to miss a single beat. 
The season six finale of Homeland will air on Sunday, April 9 at 9 p.m. Eastern on Showtime. If you still need to catch up, all episodes of season six are currently available on demand from Showtime. 
Mic has ongoing coverage of Homeland. Please follow our main Homeland hub here.