'Zelda: Breath of the Wild' Fierce Deity Link: How to get the armor set without an amiibo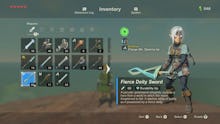 In Legend of Zelda: Breath of the Wild, amiibo let you unlock armor and weapons that you wouldn't be able to obtain otherwise. Now, some eagle-eyed data miners have spotted a set of armor and weapons present in the game's code that isn't currently unlockable with any amiibo on the market right now. We're talking about the Zelda: Breath of the Wild's fierce deity armor set and fierce deity sword. Here's how to get them.
How to get Fierce Deity Link in Zelda: Breath of the Wild
Like many rare armor sets and weapons in Zelda: Breath of the Wild, obtaining Fierce Deity Link will require a bit of spamming if you want the items right away. You'll only be able to scan a single amiibo once per day, though there are some ways around that.
You'll want to watch out for the fierce deity mask, the fierce deity armor and fierce deity boots to get the full set. Then, to complete the look, scan a few more times until you obtain the fierce deity sword. When all is said and done, you'll look like this.
By now you're probably wondering which Zelda amiibo you'll need to use to unlock these. That's the tricky part.
How to get Fierce Deity Link in Zelda: Breath of the Wild without the amiibo or NFC tag
The Fierce Deity Link amiibo is still unreleased, though we may see it soon based on a recent leak. For now, though, you'll need to go by other methods. 
Austin John Plays on YouTube shows that you can buy an NFC tag on eBay and use it to spoof the data found in that still-unreleased Fierce Deity Link amiibo. Check out the video below for detailed instructions.
These NFC tags don't cost very much and let you unlock the Fierce Deity items. If you prefer to go the do-it-yourself route, you'll want to buy a NTAG 215 NFC tag and use an Android device to make your own. Though if you don't prefer to get your hands dirty, the official new should be releasing any day now.
Check out more Zelda: Breath of the Wild coverage
Find out all there is to know about Zelda: Breath of the Wild, including our running list of all the people of color in Hyrule. Learn how to preserve your items, how to beat bosses like the Stone Talus and Lynel, the best recipes for Link and how to take on the game's shrines. If you're looking to snag a giant horse with little stamina, here's how to do it. You'll also want to find out where all the great fairies are in the game, how to use amiibo with your version of Zelda and what went into making Breath of the Wild.