This is the sneaky way Uber might be overcharging you without you realizing it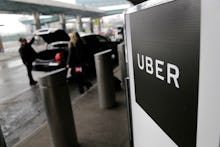 Uber's move to create price transparency through "upfront pricing" might be the latest of the company's innovations to blow up in its face: Reports in the Rideshare Guy and Quartz allege the company shows different prices to drivers and passengers who opt to use the service.
Quartz's Alison Griswold writes that she noticed the gap after a January Uber ride, when she asked if she could stay in the car after the trip ended to compare fares with her driver. Griswold found the fare shown to the driver was about a dollar — or 10% — less than the bill she got from Uber, suggesting the driver either got a smaller cut than he should have or Griswold overpaid.
Griswold's story is not the first to show this problem; Rideshare Guy reported on the discrepancies last September. Later, Uber told Fortune the reason was that the upfront pricing a passenger sees is merely an estimate. An Uber spokesman explained further in an email that sometimes a ride takes longer, or shorter, than the upfront pricing algorithm predicts it will. 
Even if a ride is shorter than predicted, the company doesn't retroactively change the "upfront price" the customer agreed to, so it pockets whatever is extra, as Fortune reported in its story, which Uber confirmed to Mic.
"Often," the Uber spokesman wrote, the rider fare is "lower than what a driver takes home," which means the company actually pays out the difference. He said he could not elaborate as to how often that happens. Uber also disputed whether — as the Rideshare and Quartz reports suggest — there's been a growing (and suspicious) delay between when passengers learn their price and when drivers are notified of their fare.
Rideshare Guy founder Harry Campbell told Quartz the delay first appeared after upfront fares debuted, speculating that it keeps passengers and drivers from being able to compare prices like Griswold did. But the Uber spokesman said they're not seeing "any data" to suggest lag times have gotten longer.
If you're not sure what to believe — and are worried about fare discrepancies on Uber — one thing you can do is screenshot the route the app shows you when you agree to upfront pricing, and then screenshot the final route they send you once your trip has concluded: the route you actually took. 
If you can demonstrate the route taken was inefficient, you might be able to negotiate a fare adjustment through Uber's refund policy, which has an option for inefficient routes.
But if you compare notes with your driver and find he or she actually beat the predicted route — and therefore you're paying a higher price than you arguably should — you have a few options. You could complain directly to Uber, or complain to the United States Federal Trade Commission or watchdogs like the Better Business Bureau. Whether you'll be refunded is another question, but you'd join the ranks of those pushing for fairer policies.
Finally, remember that you have other options in the ride-sharing market, with a growing number of competitors to Uber. While the range of choices depends on where you live, know that other companies offer generous promotions, fixed pricing models, better driver terms and other deal-sweeteners.
And there's one last outside-the-box idea to consider: If you are feeling generous and are not in a rush, as one Rideshare Guy commenter suggested, you might ask the driver to take a longer route to direct extra dollars to them as a kind of tip — and make it less likely Uber gets to pocket the difference from a cheaper-than-expected ride.
Sign up for The Payoff — your weekly crash course on how to live your best financial life. Additionally, for all your burning money questions, check out Mic's credit, savings, career, investing and health care hubs for more information — that pays off.