The Syrian gas attack killed 19 of Mazin Yusif's family members. He's only 13.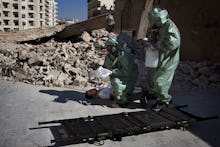 Mazin Yusif was only 7 years old when the Syrian Civil War began. Now, at just 13 years old, Yusif witnessed a monumental tragedy: a chemical attack killed 19 of his family members, CNN reported.
"I saw the explosion in front of my grandfather's house," Yusif told CNN, while wiping his tears away. "I ran to their house barefoot, I saw my grandfather sitting ... suffocated. Then I became dizzy."
The following tweet includes footage from CNN on Yusif's experience: 
On Tuesday morning, an airstrike from a Syrian warplane dropped on rebel-controlled Khan Sheikhoun in Idlib province where Yusif lives. But unlike most airstrikes raining down in Syria, this appeared to be a chemical gas attack that killed at least 86 people, mostly children, and counting — making it one of the most deadliest since the start of the war.
Yusif saw the explosion with his own eyes. It happened right in front of his grandfather's house. He ran barefoot to the aid of his grandfather, helplessly trying to wake him up before he became dizzy himself.
Yusif's grandmother Aisha Al-Tilawi, 55, who was being treated at Reyhanli State Hospital in Turkey, just a stone throw's away from the Turkish-Syrian border, recounts the aftermath of the chemical attack. "We started choking, felt dizzy, then fainted," Al-Tilawi told CNN. "Mazin was trying to wake up his grandfather."
Yusif fainted after attempting to rescue his grandfather and woke up in a state of confusion.
"When I woke up, I found myself in bed, without clothing," he said. "I thought I was in the clinic in Khan Sheikhoun. I turned to the guy in the bed next to me and said 'We need to get out of here. The planes will hit us again.'"
In most conflict zones, hospitals are considered off-limits from airstrikes and bombings. But in Syria, they're a target. Nearly every single hospital in rebel-controlled territory has been bombed by Assad's regime, CNN reported.
It wasn't until Yusif met his neighbors from Khan Sheikhoun at the hospital did he learn he was in Reyhanli. But while Yusif survived, his neighbors told him his grandfather did not. 
"They told me my grandfather had died, and my cousins and their children," Yusif added, listing the names of a newly married cousin, another cousin, his wife and their twin boys. 
According to CNN, the World Health Organization said victims showed signs they were exposed to nerve agents from the airstrike. Turkish Justice Minister Bekir Bozdag said autopsies on three bodies brought from Idlib confirms the use of chemical weapons in the attack. But Syrian President Bashar al-Assad's regime denies responsibility for the chemical attack. 
"I stress to you once again: the Syrian army has not, did not, and will not use this kind of weapons - not just against our own people, but even against the terrorists that are targeting our civilians indiscriminately," Syrian Foreign Minister Walid Muallem said at a press conference in Damascus.