'Overwatch' Blackwatch Genji: Fans think the "Uprising" comic is teasing a new Genji skin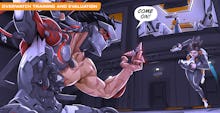 A new Overwatch event is just around the corner, and that means the fans are excited about one thing in particular: new cosmetic skins for their favorite characters.
Specifically, the Overwatch fandom seems to be excited about Genji's appearance in the "Uprising" comic, an Omnic crisis-themed bit of lore to accompany the forthcoming event.
The fans are calling his edgy new look "Blackwatch Genji" and they desperately, desperately want it to be a thing.
Overwatch fans are thirsty for a new Blackwatch Genji skin
In the "Uprising" comic, it's revealed that Genji was a part of Blackwatch, a covert subsection of the Overwatch organization which Gabriel Reyes — aka Reaper — and McCree belonged to.
When Genji was in Blackwatch, he sported a much different look, baring a bit more skin than he does in his default outfit — and fans hope this look will be one of Genji's new skins in the upcoming event.
One fan on Reddit went so far as to allege they'd found "proof" that it was going to be a new skin. Their evidence? That in the background of one of the comic's panels, you can see what appears to be Genji in the Blackwatch outfit, standing in a "T-pose," a character stance game developers often use to view every part of a character as they're designing them.
The theory goes that Blizzard just copied over their actual "T-pose" concept art for Genji's in-game Blackwatch character skin and used it in the background as a tease for fans. It's a bit thin — but hey, that's a sweet cyborg outfit, right? So fans are grabbing on to whatever evidence they can find.
To be fair, Blizzard does have a habit of teasing skins and updates way ahead of time in cryptic corners of comics and things like that — so, Blackwatch Genji very well might be a thing.
We'll know for sure once Blizzard officially unveils the new Omnic crisis event on April 11.
More Overwatch news and updates
For more on Overwatch, check out the rest of what Mic has to offer. Here is a look at a very funny but naughty meme on the Overwatch subreddit, an interview with the creator of an awesome new Overwatch zine, a full explanation of the different types of health in Overwatch, our definitive ranking of every Overwatch hero, a roundup of awesome gender-bent Overwatch cosplay and a giant Overwatch FAQ for beginners.