Bill O'Reilly's ratings spike amid imbroglio, but only 3% of audience is millennials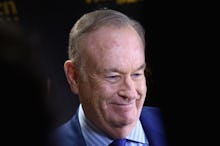 The mounting sexual assault allegations against Bill O'Reilly may not be playing well with some of his advertisers — but his viewers can't get enough.
According to the Hill, O'Reilly's ratings have skyrocketed amid the ongoing scandal at Fox News, with more than 3.76 million people watching Tuesday night's edition of The O'Reilly Factor. Nielsen Research told the outlet this viewership represents a 20% spike as compared to the segment that aired the Tuesday before. 
As the cherry on top, O'Reilly's Tuesday-night show even managed to best ABC and NBC during the same time slot in what the Hill called a "rare victory for a cable network over broadcast television."
Heartening.
O'Reilly's viewers are largely people over the age of 34, according to Nielsen data obtained by Mic. Younger viewers, in the 18 to 34 age range, made up around 3% of his audience from Jan. 1 to April 2, 2017.
There have been other signs that it may be too soon to kick back, relax and wait for O'Reilly's demise, which perhaps once seemed inevitable after seven women leveled sexual harassment allegations against him.
While, yes, almost 50 advertisers have pulled their ads from The O'Reilly Factor in just a handful of days, many of those brands have chosen to simply reallocate their money into different Fox News programs. What's more, a group of smaller advertisers are now enjoying primetime ad spots on O'Reilly's show after such a significant fallout. 
At the end of the day, if there were any reason for Fox News to fire O'Reilly, it would be for financial reasons — not because they care about protecting female employees from sexual harassment. 
But in the meantime, the news network won't hurt too badly. After all, its viewers are affirming what Fox News executives knew all along: Its draw is mouthpieces like O'Reilly who traffic in misogyny. 
April 6, 2017, 6:02 p.m.: This story has been updated.