When is Coachella 2017? How to watch the music festival online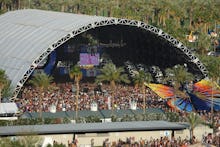 The Coachella Valley Music and Arts Festival returns for two weekends April 14 to 16, and April 21 to 23, at the Empire Polo Club in Indio, California. Kendrick Lamar, Lady Gaga and Radiohead are headlining the big event. The bill also features the XX, Bon Iver, Future, Lorde and Gucci Mane. For those who can't make it to the sold-out west coast festivities this year, you're in luck. Here's how to watch Coachella 2017 from the comfort of your computer screen or mobile device.
How to watch Coachella 2017 online 
YouTube will be livestreaming performances and interviews from the first weekend of Coachella festival 2017 at this link here. There's already a countdown taking place at the link above so remote music fans can keep track of the livestream launch time next weekend.
As of Thursday afternoon, 61 artists are confirmed for the Coachella festival 2017 livestream. According to the site, the list is subject to change. A full schedule is expected to be added during the week of the festival. So far Kendrick Lamar, Lorde, Banks, Nao and DJ Snake are some of the artists viewers can catch online next week. 
A full list of festival headliners is below. Note that all of these artists are not guaranteed to be featured on the livestream. But there's a chance others not listed on YouTube presently may be added to the livestream list at a later time, as the list is in progress.
Mic has ongoing coverage of Coachella. Please follow our main Coachella hub here.