'Jessica Jones' Season 2 Cast: Janet McTeer to play character with "enormous impact"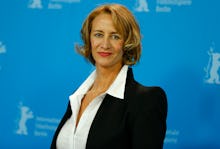 Iron Fist has only been streaming on Netflix for a few weeks, and news that The Defenders would premiere on Aug. 18 has barely hit the press. But still, it may be time to start looking ahead to the second season of Jessica Jones. Entertainment Weekly reported that Janet McTeer, a two-time Oscar nominee, will be joining the cast of the critically adored Marvel series. 
According to the report, McTeer will play an "undisclosed character who will have an enormous impact on Jessica's life." The first season of Jessica Jones received near-universal acclaim and was praised for its exploration of the lead character's struggle with post-traumatic stress disorder and history of abuse. McTeer's casting now indicates Marvel is no doubt hoping to build on the series' already-strong goodwill by adding to the stellar ensemble.
"We are so fortunate to have an actress of Janet's talent and stature join what is already an incredible cast," Jeph Loeb, head of Marvel Television, said in a statement to EW. "Our second season of Marvel's Jessica Jones aims to capture what audiences loved about our first, and Janet will be key to achieving that goal."
The series' creator, Melissa Rosenberg, also weighed in on the casting, saying the actress' "gravitas and authenticity are the perfect ingredients for all we're trying to create this year." 
Not to be left out, Netflix also showed its excitement over the casting. "Janet McTeer is the consummate actor, slipping seamlessly into each character she brings to life," Cindy Holland, the company's VP of content, told EW. "We're thrilled to have her join the outstanding cast, led by the fearless Krysten Ritter."
For fans of Jessica Jones and Marvel in general, speculation will now immediately turn to who McTeer could possibly be playing. The report is understandably vague, with the character's promised "impact" on Jessica Jones' life not specified as either positive or negative. Should McTeer be playing a villain on Jessica Jones, she will have large shoes to fill. 
Doctor Who's David Tennant played season one's big bad, Kilgrave, a character that has been described as one of the best villains in the Marvel Cinematic Universe. In August, Rosenberg admitted it would be tough topping Kilgrave in season two, telling Entertainment Weekly then, "No one is ever going to beat David Tennant as Kilgrave, so you don't do that. The biggest mistake would be to try to repeat that."
With season two of Jessica Jones only just starting to film, it may still be some time before we know for sure who McTeer will be portraying. Whoever the character is, though, it sounds likely they will play an important role in Jessica Jones' post-Kilgrave life.
Mic has ongoing coverage of Jessica Jones. Please follow our main Jessica Jones hub here.