Russian government says it wants full investigation into apparent chemical attack in Syria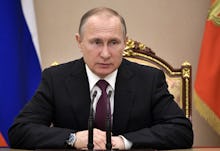 A Kremlin spokesperson said Thursday that the Russian government wants a full investigation into the suspected chemical attack in Syria that left at least 80 people dead on Tuesday, the Associated Press reported in a tweet.
Representatives from the U.S., Britain, France and Turkey have all said they believe the government of Syrian President Bashar al-Assad is responsible for Tuesday's deadly attack, in which a small rebel-held town in Syria was bombed with what appeared to be deadly chemical weapons. Dozens were killed, including infants and children.
For now, the Russian Foreign Ministry called it "premature" to "accuse the Syrian government of using chemical weapons in Idlib," according to CNN.
Russia, an ally to Assad's government, also suggested that the attack was the result of rebel weapons on the ground poisoning civilians, the BBC reported on Wednesday. The suggestion earned "sharp" criticism from officials at the U.N.