All the designers of color Melania Trump has worn so far: a running list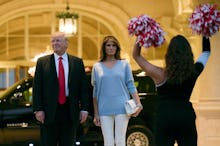 It wouldn't be an understatement to say the fashion industry has an exceedingly intense relationship with Melania Trump. If a designer comes out against dressing her, they get heat. If a designer comes out in favor of it, they get heat. 
Designers of color, much like immigrant designers, are in a particularly interesting situation. For the past eight years, some of them have former first lady Michelle Obama to actually credit for their success, including people like Jason Wu, Tracy Reese, Derek Lam and Naeem Khan, all of whom Obama wore repeatedly. During her time in the White House, Obama paid particular attention to designers of color, and designers of color therefore greatly admired her. 
"In the African-American community, that's not something we thought about before," Aurora James, the designer at Brother Vellies, said of Obama's embrace of designers of color in a previous interview. "It's definitely a conversation of, 'Why aren't their more designers of color?' Well, that's because we're not going out of our way to support designers of color. She did it in a way that she wasn't shoving it in our face either. She did it on her own accord and I think that's really beautiful." 
But so far during Trump's stint as first lady, that hasn't been the case, with Trump almost exclusively favoring white American and European designers. Given the racial makeup of the Trump administration overall, maybe this isn't surprising to you. 
To keep an eye on this issue, Mic has decided to keep track of all the designers of color Trump does wear. Currently, she's worn just two. 
1. Derek Lam for the Trump Super Bowl party
It's pretty ironic that one of the two designers of color Trump has worn is also a designer who's spoken out against her, isn't it? For their Super Bowl party in February, Trump wore a periwinkle sweater designed by Derek Lam, who was born in San Francisco and is Chinese-American. 
Although Lam was a favorite of Michelle Obama's, Lam spoke out against dressing Trump even before she entered the White House. 
"While I have incredible respect for our country's political institutions, I find it challenging to be personally involved in dressing the new first lady," Lam told Women's Wear Daily in November. "I would rather concentrate my energies on efforts towards a more just, honorable and a mutually respectful world. ... I don't wish my comments to seem I am prejudging her personal values, but I really don't see myself getting involved with the Trump presidency."
So that's that. 
2. Joseph Altuzarra for meeting the first lady of Argentina
On Thursday, April 27, Trump wore an extremely interesting jacket and skirt by Joseph Altuzarra, who's mother was Chinese-American. It was army green, with cute, patterned piping all across it. For a woman so in love with bold, solid colors, this was an intriguing choice. 
Also, unlike Lam, Altuzarra seemed fine with Trump wearing his designs, telling the New York Times back in November: "I don't want to not dress people I disagree with." 
So here he is, apparently dressing someone he doesn't agree with. 
There are a still few mystery Trump outfits though, for which designers haven't been named. For example: the black dress she wore to the Governor's Dinner, the black lace dress she wore with the Japanese prime minister in Florida and the loose blue sweater she wore for a hospital visit. 
Sure, this is a tiny issue for an administration full of many big issues, but something is to be said about the first lady not yet embracing designers of color (American or not) immediately after a first lady who did from the start, and was greatly praised for it. 
Mic will continue updating this list throughout the next four years.
April 27, 2017, 3:14 p.m.: This post has been updated.