'Zelda: Breath of the Wild' Lurelin Village: Location and everything else you need to know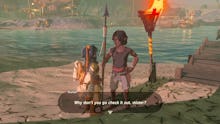 The fact that you can beat Legend of Zelda: Breath of the Wild without seeing every inch of the world is pretty daunting. As the first open-world Zelda game, Breath of the Wild offers many things to do and see in every corner of its version of Hyrule. That includes the southeast region, where you'll find Lurelin Village. This tropical beach town isn't very big, but it is fun. Here's all there is to do and see. 
Zelda: Breath of the Wild Lurelin Village location
First things first, you'll need to find Lurelin Village. It's not exactly hidden, but this is a big game and it's easy to miss. If you're having trouble locating it in the southeast corner of Hyrule, just head to clearly marker yellow square on the map below.
Zelda: Breath of the Wild Lurelin Village: Meet the locals
When you get to Lurelin Village you'll immediately be greeted by lush greens and multiple houses. Enter these houses or walk around the village and you'll meet people like Sebasto, Armes and Zuta. You might even find Mubs, who will sell you fish you can use to recover health and give yourself temporary stat boosts.
No town is complete without its fair share of weirdos though. The recurring character Spinch can sometimes be found in Lurelin Village. You can spot Spinch from pretty far away thanks to the spotted horse — also named Spinch.
Zelda: Breath of the Wild Lurelin Village: Things to do 
Within the borders of Lurelin Village, you'll find some of the best variety of fish around. If you're looking to build up your bass collection, this is where to do it.
There are also side quests to complete. In Breath of the Wild, you'll find the "Sunken Treasure," "Take Back The Sea," and "What's For Dinner?" side quests. Be sure to complete these before leaving the village.
Right outside Lurelin Village there are also a few points of interest to the Hylian traveler. For one, Kilton's monster shop appears right outside of town, allowing you to buy monster masks that help you blend in with enemies, along with other goodies like the Dark Link armor set. 
Also nearby the village is Eventide Island, one of the toughest and most exciting challenges in the game. As soon as you set foot on the island, the game will strip away all your weapons and powers until you've completed a shrine quest.
For easy travel to Lurelin Village, you'll want to unlock the Yah Rin Shrine located to the northeast of the village. Not only is this the closest warp point, but it's an extra shrine orb to add to your collection and trade for more health or stamina.
Zelda: Breath of the Wild Lurelin Village: Wait, so what's the point of this village?
Lurelin Village is interesting in that there's no exact reason for the town to exist in the game. That may be confusing to some, but it's also a nice reminder of just how vast and open the Hyrule of Breath of the Wild really is. Not everything needs to be about completing the main adventure and saving the princess. Sometimes you'll just need a place to unwind and eat some fish. 
Don't listen to the haters, Lurelin Village. Your pointless existence is fine by us.
More Zelda: Breath of the Wild news and coverage
Find out all there is to know about Zelda: Breath of the Wild, including our running list of all the people of color in Hyrule. Learn how to preserve your items, how to beat bosses like the Stone Talus and Lynel, the best recipes for Link and how to take on the game's shrines. If you're looking to snag a giant horse with little stamina, here's how to do it. You'll also want to find out where all the great fairies are in the game, how to use amiibo with your version of Zelda and what went into making Breath of the Wild.