Why do we still give out acting awards by gender?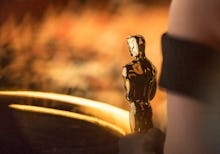 Asia Kate Dillon, who plays a gender-nonbinary person on the hit Showtime series Billions, has written to the Television Academy asking that gender-specific acting awards be reconsidered.  
Dillon, who goes by the pronouns "they" and "them," will be submitted for consideration for an Emmy Award and requested "more information from the Academy as to whether or not they use the word actor or actress to refer to assigned sex or identity." Dillon explained that her reason was "so that I could make the best decision for myself as to how I wanted to be submitted."
Variety shared part of the letter:
I'd like to know if in your eyes 'actor' and 'actress' denote anatomy or identity and why it is necessary to denote either in the first place? the reason I'm hoping to engage you in a conversation about this is because if the categories of 'actor' and 'actress are in fact supposed to represent 'best performance by a person who identifies as a woman' or 'best performance by a person who identifies as a man' then there is no room for my identity within that awards system binary. Furthermore, if the categories of 'actor' and 'actress' are meant to denote assigned sex I ask, respectfully, why is that necessary?
According to Variety, The Academy informed Dillon that "anyone can submit under either category for any reason," and Dillon was submitted in the category of best supporting actor.  
Rethinking history 
Gendered acting awards have been separated by sex since the first Academy Awards ceremony in 1929. Other awards ceremonies that separate acting awards by gender include the Golden Globes, Screen Actors Guild, Independent Spirit Awards and British Academy of Film. 
The awards have long been a subject of debate, but in the past the focus has been on gendered favoritism or sexism to the detriment of women. Kim Elesser wrote in the New York Times in 2010:
The divided Oscar categories merely insult women, because they suggest that women would not be victorious if the categories were combined. In addition, this segregation helps perpetuate the stereotype that the differences between men and women are so great that the two sexes cannot be evaluated as equals in their professions.
Gender in headlines 
Gender fluidity and identification has been receiving increased news coverage in recent years as legal battles have been fought and fashion companies have presented increased acceptance in their advertising campaigns (or not). 
The shift has impacted entertainment as well. In 2014, Jared Leto, a cisgender white man, played a transgender woman in Dallas Buyers Club and won an Academy Award for his performance. And Eddie Redmayne, a straight cisgender man, played the title character in The Danish Girl, the recipient of one of the first gender-confirmation surgeries. 
Transgender and gender-fluid actors have been receiving increasing awareness: Laverne Cox of Orange is the New Black is trans. Her co-star, Ruby Rose, identifies as gender fluid. And the series Transparent received numerous Emmy Awards. 
As awareness of gender increases and expands, perhaps it's time for the awards categories at almost 100-year-old ceremonies to as well. 
Mic has ongoing gender coverage. Please follow our main gender hub.