The Chainsmokers' 'Memories ... Do Not Open' is here: Streaming and download options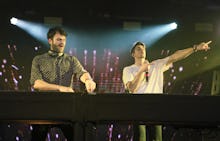 For fans of the Chainsmokers, April 7 will be remembered as a momentous day. Why? Because on April 7, the Grammy-nominated duo released their first studio album, titled Memories ... Do Not Open. And if you want to be one of the first people to make your way through all the new songs, it's time to start looking at your best streaming and download options. 
If you want to own Memories ... Do Not Open, you can head to iTunes, which will make the entire album available to download for $9.99. Individual songs, including "The One," "Something Just Like This" and "Paris," can be purchased separately from the album for $1.29 each. 
If you would prefer to just stream the Chainsmokers new album, you can do so on Spotify. 
Memories ... Do Not Open cover
The cover for Memories ... Do Not Open is rather understated, and appropriately subtle. Check it out below: 
Why the title?
Accompanying the Chainsmokers' above Instagram post was an explanation for the title. Here is what they had to say:
We decided a few months ago that it was time to give you guys an album of music. As our songwriting progressed and the music got more personal we started to feel like we had more to say. We were writing songs about our selves and different things we were dealing with from past, present and future. We titled the album 'Memories... Do Not Open', because these songs are very personal to us, collections of private memories and thoughts that we now want to share with you and in the process make ourselves pretty vulnerable but that's songwriting and music's goal, to open up and relate to one another. 
Mic has ongoing coverage of the Chainsmokers. Please follow our main Chainsmokers hub here.