Kendrick Lamar's 'Damn.' is here: Download and streaming options for the new album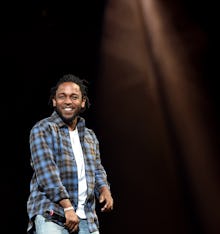 Kendrick Lamar has finally released his highly anticipated new album Damn. The record is a follow-up to his previous studio album To Pimp a Butterfly. Lamar's new opus is available for streaming on Tidal and Spotify here. Fans can download the album here on Apple iTunes. 
Lamar's current cultural influence was exemplified in the way he shut down the internet two weeks in a row to prepare for this album release. Many believed the Compton emcee began teasing fans about a new album on his surprise track "The Heart Part 4," which was released March 23. "Y'all got 'til April the 7th to get y'all shit together," he concluded on the raw track. 
The following Thursday, Lamar released his latest visual "Humble." The song was believed to have contained lyrics that diss fellow rapper Big Sean. Lamar's lyrics about stretch marks also lit up social media with discussions about his appreciation of women's bodies. 
Lamar had spoken previously with T magazine about the subject matter of this album. He revealed that it would be an "urgent" project, made with his community in mind. 
"I think now, how wayward things have gone within the past few months, my focus is ultimately going back to my community and the other communities around the world where they're doing the groundwork," he said in the interview.
Lamar is embarking on some major endeavors this month. In addition to the album drop, he is one of the headliners for Coachella festival, which kicks off Friday, April 14.
Mic has ongoing coverage of Kendrick Lamar. Please follow our main Kendrick Lamar hub here.