'Mass Effect: Andromeda' Update 1.05 Multiplayer Patch Notes: Weapon buffs and more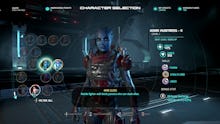 The biggest, most visible change that hit Mass Effect: Andromeda in version 1.05 is the much improved facial animation that makes its characters look less like lumbering zombies and more like actual humans. However, there are some important balance updates that hit the multiplayer mode you should be aware of, too.
When BioWare first published its patch notes for 1.05, it was vague about what the exact balance changes for multiplayer were, but now it has published those changes in detail. They're embedded below.
Mass Effect: Andromeda update 1.05 patch notes: Big changes to multiplayer balance
The bulk of the changes in patch 1.05 for multiplayer seem focused around buffing the damage output for pistols and semi-automatic assault rifles. Compared to their counterparts, they just weren't packing as much of a punch.
The patch also buffs the Outlaw enemy faction a bit to bring them in line with the difficulty of the other enemy factions players face.
Notably, BioWare's blog post on the multiplayer balance changes says it's still evaluating the balance of several aspects of multiplayer, so even more patches should be coming in the near future.
Here are the full patch notes for version 1.05 in multiplayer, from BioWare's website:
PLAYER ABILITIES
More Mass Effect: Andromeda news and updates
For more on everyone's favorite space opera, check out the rest of what Mic has to offer. Here's an essay on the troubling history of colonialism in Mass Effect, a story about the horrifying harassment campaign carried out against a former BioWare employee, a look at the #MakeJaalBi fan movement and an overview of the historic lack of gay romance options in Mass Effect.