Steve Bannon: Has Trump's right-hand man lost his influence in the White House?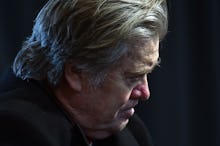 It wasn't so long ago that Steve Bannon was being called "President Bannon" for the amount of power he wielded in the White House.
But after he was demoted from the National Security Council on Wednesday, it is no longer clear if the White House chief strategist has the same influence he once did over President Donald Trump.
Is Kushner behind Bannon's NSC ouster?
Bannon's ouster comes as his feud with Jared Kushner, Trump's son-in-law and one of his top advisers, has intensified.
Politico reports that Kushner's complaints about Bannon may be at least partly behind the former Breitbart head's demotion, which the White House has tried to downplay. 
"It's not like this is a major shake-up," a White House official told Politico. 
But outside the White House, the announcement suggests a power struggle between the two top Trump aides — and one Bannon would seem to be losing as Kushner's role expands.
Bannon reportedly threatened to quit the administration because of his demotion. He and Kushner have reportedly feuded in person, but the two are said to have been even nastier behind one another's back.
That was never more evident than when Bannon apparently described Kushner to administration officials as a "globalist," which could be construed as an anti-Semitic dig at his Jewish rival, and as a "cuck" — a sexually and racially charged slur popular among the alt-right.
Bannon is somehow more unpopular than Trump, who is very unpopular
President Trump is suffering from historically low approval ratings. 
But with just 11% approval, Bannon — along with gum-devouring White House press secretary Sean Spicer — is somehow polling worse than his boss.
Bannon's awful numbers may be owing to his role in the high-profile humiliations endured by the young, embattled administration, such as the Muslim bans currently being blocked by the courts and the Republicans' failed American Health Care Act.
In the latter, Bannon reportedly attempted to secure Republican votes for the bill by telling House members they had "no choice" but to vote for it.
"Guys, look," Bannon said, according to Mike Allen of Axios. "This is not a discussion. This is not a debate. You have no choice but to vote for this bill."
"You know, the last time someone ordered me to something, I was 18 years old," a member of the House reportedly replied. "And it was my daddy. And I didn't listen to him, either."
The bill did not even come up for a vote.
Don't count Bannon out yet
Those wary of Bannon, the far-right strategist endeavoring to "deconstruct" the administrative state, shouldn't bust out the bubbly just yet.
As Politico notes, some are cautioning against reading too much into Bannon's demotion. 
"I get a sense that people are going, 'Ding-dong, the witch is dead,'" Eric Edelman, who was undersecretary of defense for policy during the George W. Bush administration, told the outlet. "The only thing he doesn't appear to have is a seat at the NSC principals committee, and it's not clear how important that will be."
Joe Macaron, a policy analyst at the Arab Center in Washington, D.C., says the populism that propelled Trump to victory in November doesn't appear to be going anywhere
"Make no mistake, Bannonism is not dead," Macaron wrote in Al-Jazeera. "Whenever Trump turns to election mode, populism will be his impulse and no one better than Bannon can bring that message home."