Syrian planes dropped chemical weapons on their own people, US military confirms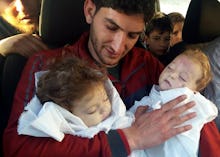 The U.S. military confirmed that it was Syrian planes that dropped chemical weapons in Syria earlier this week, resulting in more than 83 deaths, NBC News reported Thursday.
According to NBC's report, the U.S. military watched the planes on radar, and ultimately saw them drop the bombs on Idlib — a rebel-held area of the country.
While military officials confirmed they saw the attacks were carried out by Syrian planes, they declined to comment to NBC News about what specific chemical weapons were used.
President Donald Trump said Wednesday that the attack, carried out by Syrian President Bashar al-Assad's regime, was an "affront to humanity."
And on Thursday, CNN reported that Trump is considering military action to respond to Assad's actions.