This is the short, sweet story behind the lost McDonald's 'Mulan' Szechuan dipping sauce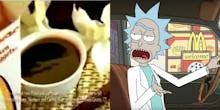 Throughout this week, fans of the cult cartoon Rick & Morty have been on the hunt for an elusive sauce — specifically, a Szechuan McNugget dipping sauce that McDonald's ran in 1998 for a limited time to promote the release of Disney's Mulan.
So we tracked down Tom Ryan, the SVP of menu management at McDonald's in 1998, who was the brains behind not just the Szechuan sauce, but the McGriddle, the stuffed crust and the dollar menu. Here's what he divulged about the sauce's origins.
In 1998, toward the end of the Disney Renaissance, the company had an important strategic marketing relationship with McDonald's — think Happy Meal toys and advertising tie-ins. So they approached Ryan's team to see what could be done for the release of Mulan.
"Chicken McNuggets in that era were really poplar with kids," Ryan said. "There are kids who know how to say chicken nuggets before they know how to say their parents names."
So he began work with one of his chefs, Andrew Selvaggio. They had already begun experimenting in the Asian market with a sweet Thai chili sauce. So they simply adapted that recipe slightly. How did they change it from the sweet chili sauce? Ryan can't say, partly because that would be a protected trade secret.
Though many fanatics have tried to recreate the recipe on their own with ingredients like plum sake and Sriracha (this reporter made it at home from the recipe Mic published earlier this week), Ryan insists that the original sauce from 1998 was in no way spicy.
"Remember, it had to be relevant for kids, so you couldn't do anything spicy, even though the name was Szechuan," Ryan said.
Ryan told us it was a "highly successful" but limited run. Now, Rick & Morty fans are clamoring for McDonald's to bring back the sauce.
The closest thing to a hint from McDonald's so far was a tweet from a company chef that reading, "I'll see what I can do."
So what became of Ryan? Well, Ryan grabbed Selvaggio and other members of the McDonald's creative team in 2006 and founded Smashburger, which would go on to be one of the fastest-growing burger chains in history.
"That's the long and short of it," he said.