Harry Styles' "Sign of the Times": Stream the new song from One Direction member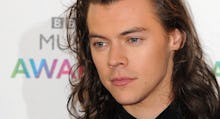 Since last March, One Direction members have individually been embarking on personal projects during their indefinite hiatus. Singer-songwriter Harry Styles, a member of the British pop-rock group, clearly went right to work. Styles delivered his first single "Sign of the Times," a weeping rock ballad about saving a rocky relationship, today. Stream the new single here on Spotify, TIDAL and Soundcloud here. Listen to the audio track via the video below.
Styles made the announcement about his first single via Instagram last week. His debut solo album is also arriving soon, although he hasn't announced an official release date. In June, Styles signed a solo record deal with Columbia Records. This week, he told BBC Radio that he wrote or had ideas for about 70 songs, though he only finished 30 of them, and penned several while visiting Jamaica. 
"I just wanted to not be somewhere that I'd get distracted. It was 360 of writing, you'd go home for dinner, write at the house then go back to the studio. I liked being away from everything and doing it like that," Styles said on the Radio 1 Breakfast Show, according to the Sydney Morning Herald.
During the interview, he also revealed that he consulted fellow British sensation Ed Sheeran for advice on the album, the Evening Standard reported.
"I played him a few songs after the album was finished. He didn't say that he didn't like any, but he did like one song that isn't on the album," he said.
The 23-year-old singer is also managing a budding acting career. He is in the World War II drama Dunkirk, which hits theaters this July.
Mic has ongoing Harry Styles coverage. Please follow our main Harry Styles hub here.