7 statistics that prove the Pulitzer Prize has a diversity problem as big as the Oscars'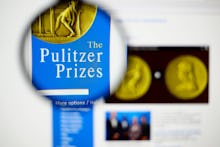 Both the Academy Awards and Pulitzer Prize have been around for roughly a century. Both celebrate different kinds of storytelling — on screen and in print, respectively. Both carry with them near-unprecedented prestige. And both have a major diversity problem.
Pulitzer's problem has entered the spotlight again as we swiftly approach April 10, the day its winners are announced. 
A 2016 Los Angeles Times analysis of Oscar nominations since the ceremony's inception in 1929 revealed a mere 6.4% of nominees have been nonwhite — in other words, 93.6% have been white.
Similarly in 2016, the Columbia Journalism Review did a demographic breakdown of Pulitzer Prizewinners since the prize began in 1917: 84% of winners have been white and 84% have been men. 
While it's important to note the Oscars study was of nominees as opposed to winners, the analyses give a general sense of how poorly both awards perform in terms of diversity. (When it comes to gender, it's worth remembering the Academy Awards are not afforded the opportunity of exclusion with a fixed number of actress-nomination slots every year.)
It's not just those who are nominated who are the issue. The kind of content that gets recognized is equally problematic. Only 10% of Pulitzer-winning coverage has been about the Middle East, for example. And a meager 6% has gone to stories about Central and South America. 
Of the 14 prizes awarded for content about Africa, only 5% have pertained to daily life. The other 95% have fulfilled the continent's Western stereotype of war, famine, political upheaval and human-rights violations. 
"Stories about economics and business, diplomacy, corruption, justice systems and other topics in Africa don't win Pulitzers — at least not yet," the Columbia Journalism Review explained in its breakdown. 
And out of the roughly 2,000 Pulitzer Prizes that have been awarded, there have been only 30 African-American winners.
As Twitter user Brooke Crum observed during the 2016 Investigative Reporters and Editors conference, USA Today's Pulitzer winners look remarkably similar — namely, white, male and middle-aged.
There are humble improvements, however, which provide a glimmer of hope to those advocating for greater inclusion. 
Between 2006 and 2016, nearly one-third of the journalism prizes went to women, suggesting the tide may be turning in some realms. And while Oscars efforts to improve diversity seem to many to be moving at a glacial pace, pushback from the public has forced the Academy to make it a priority.