Apple "Clips" has arrived — here's everything to know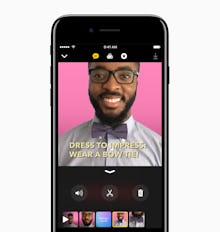 Apple's got something new for you. It's a video app released Thursday called Clips. The stand-alone app lets users create video content on iOS devices separate from the device's built-in Camera app. And unlike other video apps out there, there is no social networking element.
"Clips gives iPhone and iPad users a new way to express themselves through video, and it's incredibly easy to use," Susan Prescott, Apple's vice president of apps product marketing, said in a release. "The effects, filters and amazing new Live Titles we've designed for Clips let anyone make great-looking, easily shareable videos with just a few taps."
Here's everything to know about the free Clips app.
Is it Apple Clips compatible with Android?
Right now, Clips is available for iOS. The app only works on iOS 10.3 so if you have not upgraded your software, don't expect to use it. There are device specifications as well: You must have at least an iPhone 6S, iPad Air, iPad mini 2 or sixth-generation iPod touch.
How does Apple Clips work?
Clips allows users to grab footage from the app or to upload existing content from their device's library. Once a photo or video is selected, users can add text, filters, emojis or overlays. These features are reminiscent of Snapchat. Apple Clips also has a feature called "posters" that users can add to their footage. These are opaque title cards.
Another feature called "Live Titles" uses voice recognition technology to add animated captions and titles in 36 languages. Selecting the "Live Titles" button will allow users to talk out subtitles and the app will transcribe what you say. There's also a feature to edit any wrong transcriptions. While using Live Titles, there is a "microphone" button that will mute voices.
"Live Titles let you easily create animated captions and titles — just by talking," Apple wrote on its website. "Simply speak while recording, and text automatically appears onscreen, perfectly synced with your voice. Choose from different styles and tap any title to adjust text and punctuation."
How long are videos?
The video clips, which are square, can be up to 60 minutes in total. But each added clip can only be up to 30 minutes or 300 individual segments. Should your video be captured in HD, then it will be shared in 1080p HD as well.
What can I use Apple Clips for?
The app is for creating shareable video content. While it does not have a social element, you can upload your content to social media platforms. Apple's app supports uploads to Facebook, Instagram, YouTube and Vimeo.