Donald Trump more or less adopts Barack Obama's Syria policy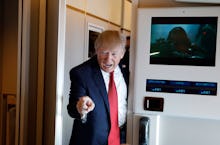 President Donald Trump's administration suggested on Thursday that they will seek to oust Syrian President Bashar al-Assad from power — adopting a policy of regime change that Trump bashed Hillary Clinton for during the campaign.
"Assad's role in the future is uncertain," Secretary of State Rex Tillerson said in a news conference on Thursday, when asked about the chemical weapons attack Assad carried out against his people on Tuesday. "It would seem there would be no role for him to govern the Syrian people."
Aboard Air Force One at roughly the same time, Trump said of Assad, "He's there, and I guess he's running things, so I guess something should happen."
It's unclear whether Trump would use military action to oust Assad from power — a subject he declined to specifically comment on while aboard Air Force One. "I don't want to say what I'm going to be doing with respect to Syria," Trump said, when pressed for particulars.
Tillerson also declined to comment on whether military action was on the table on Thursday and instead suggested the Trump administration would first seek to leverage talks with the international community to get Assad to leave.
If that sounds familiar, that's because it is: It was more or less former President Barack Obama's Syria policy. 
Obama consistently said Assad had lost his "legitimacy," even saying at one point that Assad's "days are numbered." 
And even as the Obama administration considered military strikes against Assad's regime in the wake of a horrific chemical weapons attack in 2013 — going so far as to have the Pentagon draft plans for an attack, as Trump's Pentagon is reportedly doing now — attacking the Assad regime was never going to be aimed at removing Assad from power. 
Instead, the Obama administration relentlessly pursued diplomacy — just like the international "political process that would lead to Assad leaving" that Tillerson said the Trump administration would pursue. 
Those efforts never yielded any fruits for Obama. It's not clear whether Trump would be able to make any more headway.
The Trump administration moving to use Obama's plan for Syria comes a day after Trump blamed the Syrian crisis on his predecessor. 
"I think the Obama administration had a great opportunity to solve this crisis a long time ago when he said the red line in the sand," Trump said Wednesday at a news conference in the White House Rose Garden. "And when he didn't cross that line after making the threat, I think that set us back a long ways, not only in Syria, but in many other parts of the world, because it was a blank threat. I think it was something that was not one of our better days as a country."
Trump also blamed Obama for the attack in Syria in a statement he issued on Tuesday, calling the chemical attack a "consequence of the past administration's weakness and irresolution."