Who is Mike Conaway? The conservative accountant could be a problem for Trump.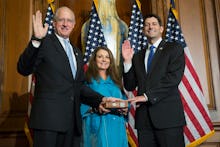 The chairman of the House Intelligence Committee's investigation into Russia, Devin Nunes, recused himself on Thursday due to an ethics probe into his behavior during the investigation.
Stepping in to lead the investigation is GOP Rep. Mike Conaway of Texas. While he's recently made headlines for calling the alleged use of Mexican entertainers by Democrats to increase voter turnout an example of foreign interference, he has a long history of less sensational activities.
Conaway is best known for his skill as an accountant and his personal connection to a former president.
Close ally to President George W. Bush
Conaway's connection to the Bush family predates his professional political career.
Bush consistently elevated Conaway, whose political career seemed to grow as an extension of the former president's.
Per Politico:
A longtime ally of George W. Bush, Conaway worked as chief financial officer of Bush Exploration, an oil and gas firm, in the 1980s. When Bush was governor of Texas, he appointed Conaway a state board of accountants.
It seems Bush didn't misplace his trust in Conaway's accounting abilities. He led the audit team who, in 2008, uncovered an embezzlement scheme by Christopher J. Ward, a treasurer of the National Republican Congressional Committee.
Ward was eventually sentenced to 37 months in prison for his actions.
A critical Trump supporter and enemy of Putin
While Conaway endorsed Trump after all other GOP candidates had left the race, he wasn't a particularly conciliatory supporter.
When Trump questioned the utility of NATO, Conaway said, "Trump spouted off before he knew what he was talking about." He even specifically singled out the restraint of Russian interests as a reason for NATO: "It's not about terrorism. It's about Putin."
His official website takes direct shots at Putin and calls him a threat to U.S. sovereignty:
"Putin is a megalomaniac who wants to recreate the former Soviet Union's influence in the world. He will not stop where he is at. He will threaten other countries' sovereignty.
According to Politico, he does question the legitimacy of claims that Russian interference had the explicit goal of aiding in the election of Trump.
But his history of following the evidence wherever it leads should make anyone with a secret feel nervous.