Hillary Clinton emerges from woods to school male legislators on reproduction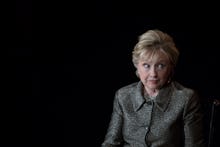 She's persisting.
In a rare post-election public appearance Thursday, vanquished presidential hopeful Hillary Clinton threw monumental shade at male lawmakers who would cut insurance coverage for parental care.
"The things that come out of some of these men's mouths, like, 'Why do we have to cover maternity care?' Oh, I don't know — maybe you were dropped by immaculate conception," she deadpanned.
Clinton, who got a firsthand lesson in health care reform as first lady, let loose at the Women in the World summit, an annual event showcasing the work and thought of female politicians, entrepreneurs and activists.
In an on-stage interview with Nicholas Kristof of the New York Times, she likened the arc of the health care talks to a Saturday Night Live skit for sheer unbelievability.
The former secretary of state's withering remarks skewered Republican lawmakers who ended up derailing the American Health Care Act, a reform package championed by President Donald Trump and House Speaker Paul Ryan.
Despite GOP control of the White House and Congress, the reform effort collapsed in part because of resistance from the House Freedom Caucus. 
The conservative band of lawmakers had argued in favor of slashing more benefits, including maternity care, from the framework of former President Barack Obama's signature Affordable Care Act. 
Efforts to justify such cuts at times had critics crying foul, notably when Sen. Pat Roberts (R-Kan.) scoffed to a reporter that he "wouldn't want to lose my mammograms" and when White House press secretary Sean Spicer, whose 70-year-old boss has an 11-year-old kid, questioned why an older male might possibly need such coverage.
Clinton, who defeated Trump in the popular vote but lost the Electoral College in her second attempt to become the first woman to win the Oval Office, gave a mock shudder when asked about her political future.
She said she had no plans to pursue office again, but would instead focus on helping Democrats regain control of the legislature and to champion women's issues.
In her first public interview since losing in November, Clinton also called for an independent, non-partisan investigation of Russian involvement in the election, warning that the country's agents would "be back time and time again" if allowed to go unchecked.