Did the US bomb Syria? US missile strike targets Syrian airbase.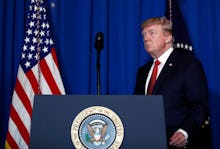 In its first direct attack on Syrian President Bashar al-Assad's government, the United States launched more than 50 cruise missiles early Friday morning at a Syrian airfield. The missile strike was in direct response to the Syrian government's chemical attack on civilians Tuesday that left dozens dead, including children. 
President Trump made a brief statement Thursday night defending the missile strike and saying the order to carry it out came directly from him. 
Syrian state TV said the US attack was an act of "aggression," according to the Associated Press. 
According to NBC, the missiles were fired from U.S. warships in the Mediterranean Sea. The airfield targeted was the same airfield from which government forces launched the chemical weapon, which killed over 80 people in Khan Sheikhoun in the country's northwest. 
On Wednesday, President Trump, in a statement in front of the White House, said the Syrian government's apparent use of a banned chemical — the nerve agent Sarin — on its own civilians crossed "a lot of lines," but stopped short of revealing any specific actions the U.S. would take in response. 
Thursday night's missile attack came as a surprise. "Tonight, I ordered a targeted military strike on the airfield in Syria from where the chemical attack was launched," Trump said in a statement after the missile strike. "It is in this vital national security interest of the United States to prevent and deter the spread and use of deadly chemical weapons. There can be no dispute that Syria used banned chemical weapons, violated its obligations under the chemical weapons convention, and ignored the urging of the U.N. Security Council."
April 6, 2017, 10:20 p.m. Eastern: This story has been updated.