Senate reactions are divided over Trump's missile strike against Syria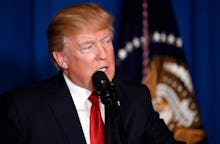 As President Donald Trump ordered missile strikes against the Syrian government Thursday night in response to Bashar al-Assad regime's chemical attack that left dozens of his own citizens dead, members of Congress were divided.
Republican Sens. John McCain of Arizona and Lindsey Graham of South Carolina released a statement approving the strike, saying Assad "must pay a punitive cost."
"We agree with the president that Assad has crossed a line with his latest use of chemical weapons," McCain and Graham said in a joint press release. "The message from the United States must be that this will not stand. We must show that no foreign power can or will protect Assad now. He must pay a punitive cost for this horrific attack."
Republican Sen. Rand Paul of Kentucky suggested he disapproved of the military intervention. "Our prior interventions in this region have done nothing to make us safer," he tweeted.
Rand agreed with Reps. Barbara Lee (D-Calif.) and Tulsi Gabbard (D-Hawaii) in taking issue with the administration conducting a strike without approval from Congress.