Here's a running list of members of Congress condemning Trump for the Syria strike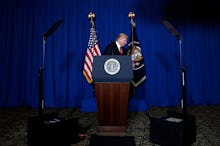 On Thursday night, President Donald Trump ordered missile strikes on al-Shayrat air base in Syria. It is where Bashar al-Assad's alleged chemical weapons attack, which killed scores of his own citizens Tuesday, was launched, according to the U.S. government — this was the motivation for Trump's retaliatory attack.
The order drew mixed and dividing reactions. A number of U.S. lawmakers and members of Congress applauded the dramatic response from Trump. Equally, a number of politicians on Capitol Hill censured the act of aggression. 
Sen. John McCain (R-Ariz.) and Sen. Lindsey Graham (R-S.C.) said Assad "must pay a punitive cost" in a joint statement commending the strikes.
"We agree with the president that Assad has crossed a line with his latest use of chemical weapons," McCain and Graham said in their statement. "The message from the United States must be that this will not stand. We must show that no foreign power can or will protect Assad now. He must pay a punitive cost for this horrific attack."
However, Trump ordered military action without congressional approval. Some members of Congress expressed trepidation or ambivalence, arguing the strikes were warranted, but that military intervention necessitated Congress' approval.
Others outright condemned the act, with accusations ranging from hypocrisy to recklessness. Here's a running list:
Rep. Barbara Lee (D-Calif.)
Rep. Ro Khanna (D-Calif.)
Rep. Val Demings (D-Fla.)
Rep. Jim McGovern (D-Mass.)
Sen. Rand Paul (R-Ky.)
Sen. Tim Kaine (D-Va.)
Rep. Jerry Nadler (D-N.Y.)
Sen. Brian Schatz (D-Hawaii)
Rep. Alcee L. Hastings (D-Fla.)
Sen. Chris Murphy (D-Conn.)
Rep. Earl Blumenauer (D-Ore.)
Rep. Tulsi Gabbard (D-Hawaii)
Rep. Joe Kennedy III (D-Mass.)
Rep. Sheila Jackson Lee (D-Texas)
Rep. Don Beyer (D-Va.)
Rep. Bonnie Watson Coleman (D-N.J.)
Rep. Jason Lewis (R-Minn.)
Sen. Chris Coons (D-Del.)
Rep. Dwight Evans (D-Pa.)
Rep. Brendan Boyle (D-Pa.)
April 7, 2017, 5:25 p.m.: This story has been updated.